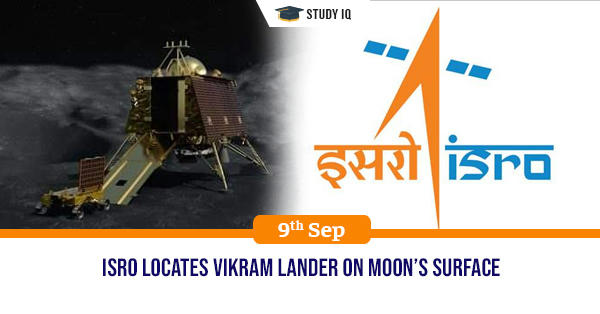 ISRO locates Vikram lander on Moon's surface
Date: 09 September 2019
Tags: Space
Issue
The Indian Space Research Organisation (Isro) has located lander Vikram on the Moon surface after loosing contact about 24 hours ago.
Background
Communication with the lander Vikram was lost about two minutes before it was scheduled to make a soft landing on the moon around 1.55am on September 7. Several attempts by scientists at Isro's mission control complex in Bengaluru to establish a link did not yield results.
Details
The moon orbiter has located the lander on the moon's surface and has clicked a thermal image of the lander.

ISRO now faces its biggest challenge of establishing communication with the lander, which scientists say appears unlikely as the spacecraft has apparently made a hard landing on the Moon.

A thermal image was made by using radiation from the infrared region of the spectrum, which means that the orbiter has not seen the lander or detected any communication link, but captured the radiations being emitted from it.

Any major damage would likely make the Pragyaan rover non-functional, making it difficult for the rover to traverse the Moon's surface.

Locating the lander would have offered clues on what happened in the last two minutes of the powered descent and where it landed. This information could be useful for planning future Moon missions.
Way ahead
The orbiter period is around two hours, but as it is revolving in a polar orbit around the Moon, it will come to the same point only during the next few cycles. So as time passes by, it will get very difficult to set up communication with the Lander

The life span of the Pragyaan rover present inside the Lander is about 1 moon day which is equal to about 14 earth days. The functions to be performed by Pragyaan will not be possibe if communication is not established soon.