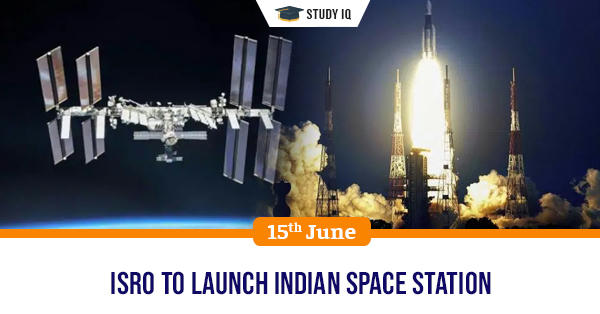 ISRO to launch Indian Space Station
Date: 15 June 2019
Tags: Space
Indian Space Research Organisation (ISRO) has unveiled its plan to build its own space station- Indian Space Station in low earth orbit (LEO) to conduct microgravity experiments in space in 5 to 7 years. The detailed project report on setting up a space station and its modalities will be submitted to Government after the Gaganyaan mission. At present, only three countries have or had their own space stations so far viz. US, Russia, China and consortium of nations that own International Space Station (ISS).
Indian Space Station
This project will be an extension of the Gangayaan mission. It will be smaller than the existing ISS and is expected to have a payload of 20 tonnes (whereas, ISS weighs 420 tonnes).

Its size will be little more than two Gaganyaan crew modules. It will serve as a facility where astronauts can stay for 15-20 days and conduct microgravity experiments.

It is expected to be placed altitude of 400 kilometres from earth. It will be solely India's own project and there will be no collaboration with any other country for this project.
Comment
According to ISRO, prospects of setting up Indian space station will depend on successes Gaganyaan mission (India's first human spaceflight programme scheduled for 2022). Under this mission, ISRO will be sending two to three Indian astronauts in space for a period of up to seven days before India celebrates its 75 anniversary of its independence.
International Space Station
It is a joint project between five participating space agencies: NASA (United States), JAXA (Japan), ESA (Europe), Roscosmos (Russia) and CSA (Canada).

It is habitable artificial satellite in low Earth orbit (LEO) and is the largest human-made body in this orbit.

It consists of pressurised habitation modules, solar arrays, structural trusses, radiators, experiment bays, docking ports and robotic arms.

It maintains orbit with an altitude of between 330 and 435 by means of re-boost manoeuvres. It circles Earth in roughly 92 minutes and completes 15.5 orbits per day.

Purpose:

It serves as microgravity and space environment research laboratory in which crew members conduct experiments in human biology, biology, Astronomy, Physics, meteorology, and other fields.