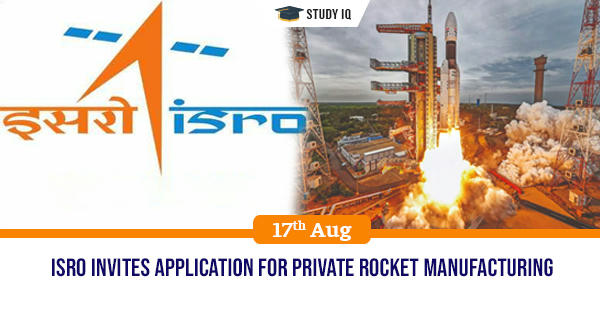 ISRO invites application for private rocket manufacturing
Date: 17 August 2019
Tags: Space
Issue
In a major push for Make-in-India initiative ISRO has invited private Indian companies to build five polar satellites Launch Vehicles (PSLV) to be supplied to ISRO.
Background
Indian space sector is highly valued to provide boost to domestic manufacturing.
By inviting private companies to take up manufacturing, ISRO is aiming to develop a strong domestic industry that boosts Make In India initiative
Details
New Space India Limited (NSIL)
NSIL is a fully government owned company that undertakes commercial assignments for ISRO. It replaces Antrix Corporation, the previous commercial arm of ISRO.

NSIL was set up to meet the ever-increasing demands of Indian space programme and to commercially exploit the emerging global space market. The emergence of NSIL would spur the growth of Indian industries in the space sector and enable Indian industries to scale up manufacturing and production base.
PSLV
The Polar Satellite Launch Vehicle (PSLV) is an expendable medium-lift launch vehicle designed and operated by the Indian Space Research Organization (ISRO).
Payload to Low Earth Orbit 3800 kg

Payload to Sun Synchronous Orbit 1750 Kg

Payload to Sub- GTO 1425 Kg

Payload to Geosynchronous Transfer Orbit (GTO) 1200 Kg