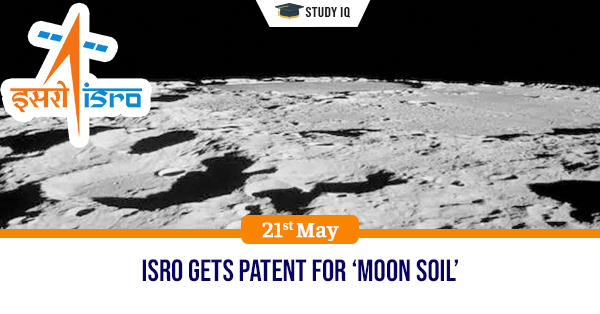 ISRO gets patent for 'moon soil'
Date: 21 May 2020
Tags: Space
Issue
Indian Space Research Organisation (ISRO) has received a patent for its method of manufacturing highland lunar soil simulant.
Background
The simulant is made in bulk from similar rock samples identified and picked out from Sittampundi Anorthosite Complex, almost 67 km from Salem, in Tamil Nadu.
Details
The procedure has satisfied all aspects such as mineralogy, bulk chemistry, grain size distribution and geo-mechanical properties.

The method used for preparing the lunar simulant is cost-effective, reproducible and easy to scale up, said the patent specification filed by the Space Agency.

The simulant is quite similar to the regolith (loose unconsolidated rock and dust that sits atop a layer of bedrock) of lunar highland region.

It can be used to control the mobility of the rover for scientific exploration and for the study of geo-technical or mechanical properties of lunar soil.

The simulant could also be used for fundamental theoretical and experimental research for constructing civil engineering structures on the surface of the Moon, and to make headway in lunar locomotive engineering.

There are bright and dark areas on the Moon's surface. The dark areas are called Maria or mare, which are mostly flat, while the highlands are heavily cratered and mountainous.

Isro's patent application claims that most of the countries produced simulants representing lunar mare region, while the highland crust occupies 83 per cent of the lunar surface. Yet, only a limited number of simulants represent the regolith of this region.

Most future missions propose for soft landing on the lunar highland region. Hence there is an urgent need for bulk quantity of lunar soil simulants that represent the highland lunar crust.

Several countries have been developing and producing lunar simulants, including the US, Japan and China, and several attempts has been made in the past to reproduce the lunar environment for research purpose.