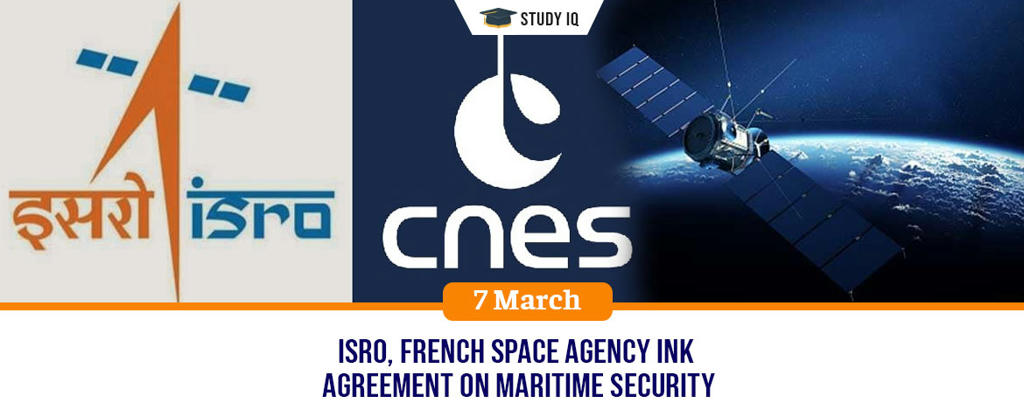 ISRO, French space agency ink agreement on maritime security
Date: 07 March 2019
Tags: Space
India Space Research Organisation (ISRO) and its French counterpart CNES have signed agreement to set up a joint maritime surveillance system in India in May 2019. The agreement comes year after India and France had announced broad collaboration during French President Emmanuel Macron's visit to India in March 2018.
Under this deal
Both space agencies will explore putting up constellation of low-Earth orbiting (LEO) satellites.

These satellites will identify and track movement of ships globally and in particular those moving in Indian Ocean region (IOR) where France has its Reunion Islands.

Before that, they will initially share data from their present space systems and develop new algorithms to analyse them.
Features of agreement
It intends to supply an operational system for detecting, identifying and tracking ships in Indian Ocean.

It provides for setting up maritime surveillance centre in India in May 2019.

It deals with sharing of capacity to process existing satellite data and joint development of associated algorithms.
Climate and Weather Satellites
Both space agencies also have put up two climate and ocean weather monitoring satellites Megha-Tropiques (2011) and SARAL-AltiKa (2013) that are considered a model.

They will also launch Oceansat-3-Argos mission in 2020 along with a joint infrared Earth-observation satellite.