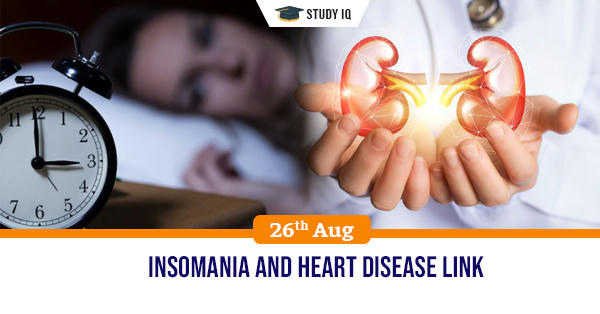 Insomania and heart disease link
Date: 26 August 2019
Tags: Space
Issue
People suffering from insomnia may have an increased risk of coronary artery disease, heart failure and stroke, according to new research in the American Heart Association's journal Circulation.
Background
The prevalence of heart disease and stroke has increased by over 50% from 1990 to 2016 in India, with an increase observed in every state. The contribution of these diseases to total deaths and disease burden in the country has almost doubled in the past 25 years.
Details
Researchers have found an association between insomnia, which affects up to 30% of the general population, and an increased risk of developing heart disease and stroke.

These observational studies were unable to determine whether insomnia is a cause, or if it is just associated with them.

Genetic variants for insomnia were associated with significantly higher odds of coronary artery disease, heart failure and ischemic stroke , particularly large artery stroke, but not atrial fibrillation.