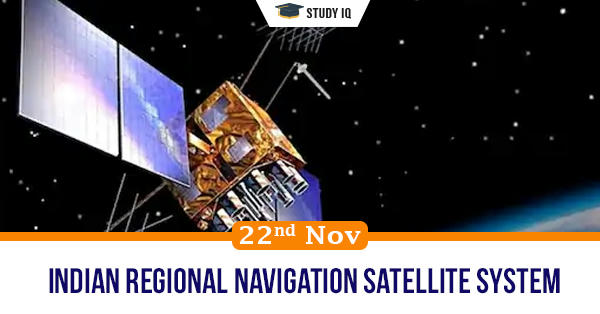 Indian Regional Navigation Satellite System
Date: 22 November 2020
Tags: Space
Issue
India became the fourth country in the world to have its independent regional navigation satellite system recognised by the International Maritime Organisation (IMO) as a part of the World Wide Radio Navigation System (WWRNS).
Background
Merchant vessels in Indian waters can now use the modern and more accurate system as an alternative navigation module.
Details
The IRNSS is an independent regional navigation satellite system developed by India. It is designed to provide accurate position information service to assist in the navigation of ships in the Indian Ocean waters.

It could replace the US-owned Global Positioning System (GPS) in the Indian Ocean extending up to approximately 1500 km from the Indian boundary.

After the US, Russia, and China that have their own navigation systems, India has become the fourth country to have its independent regional navigation system. However, IRNSS is regional and not global.

The system is based on the Indian Space Research Organisation's (ISRO) satellites that are used for navigation.
International Maritime Organisation (IMO)
The IMO is the United Nations' specialised agency responsible for the safety and security of shipping and the prevention of marine and atmospheric pollution by ships.

The IMO's primary purpose is to develop and maintain a comprehensive regulatory framework for shipping and its remit today includes safety, environmental concerns, legal matters, technical co-operation, maritime security, and the efficiency of shipping.

The IMO consists of an Assembly, a Council, and five main Committees: the Maritime Safety Committee; the Marine Environment Protection Committee; the Legal Committee; the Technical Co-operation Committee, and the Facilitation Committee.