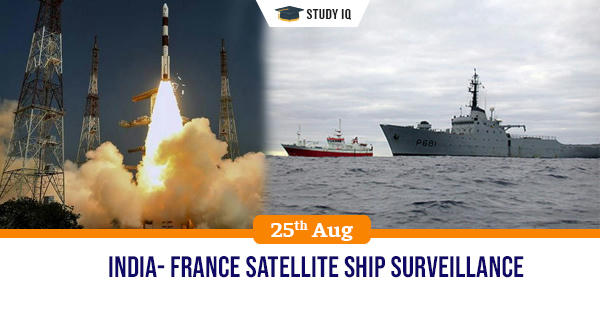 India- France satellite ship surveillance
Date: 25 August 2019
Tags: Space
Issue
India and France have decided to launch surveillance mechanism for ships using satellites. It will continuously provide maritime surveillance and security.
Background
Most ships are mandated to have a transponder that gives their details and also to detect ships around them. By making out the kind of ship, its location, speed and course with AIS, a country's maritime force can make out potential threats, similar to the aviation system of IFF or 'identify friend or foe' for planes.
Details
A group of 10 low earth satellites are launched for this purpose.This constellation carrying telecommunications (AIS) and radar and optical remote-sensing instruments will constitute the first space-based system in the world capable of tracking ships continuously.

The satellites will be operated jointly by France and India to monitor ships in the Indian Ocean.

The satellite-based Automatic Identification System or AIS will detect, identify and track a range of vessels moving in the ocean region and guard against aggression, terrorism, piracy, smuggling, source of oil slicks and also be useful for rescues.

The AIS satellites will be launched by ISRO from Sriharikota. The two agencies have earlier put up two climate and ocean weather monitoring satellites Megha-Tropiques in 2011 and SARAL-AltiKa in 2013. The new AIS ring will be further supported by ISRO's Oceansat-3 carrying the French Argos payload.
Benefits
AIS are designed to provide information about a ship to other ships and to coastal authorities automatically.

The satellite-based AIS will significantly boost India's coastal surveillance mechanism and maritime security.