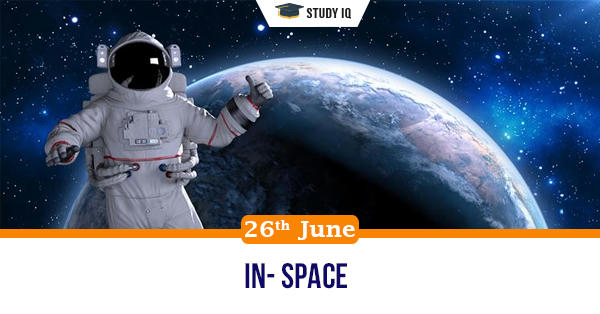 IN- SPACe
Date: 26 June 2020
Tags: Space
Issue
The government has approved the creation of a new organization to ensure greater private participation in India's space activities, known as IN-SPACe.
Background
The decision was part of an important set of reforms to open up the space sector and make space-based applications and services more widely accessible to everyone.
Details
The new Indian National Space Promotion and Authorisation Centre (IN-SPACe), which is expected to be functional within six months, will assess the needs and demands of private players, including educational and research institutions, and, explore ways to accommodate these requirements in consultation with ISRO.

Existing ISRO infrastructure, both ground- and space-based, scientific and technical resources, and even data are planned to be made accessible to interested parties to enable them to carry out their space-related activities.

Indian industry has a barely three percent share in a rapidly growing global space economy. Only two percent of this market was for rocket and satellite launch services, which require fairly large infrastructure and heavy investment. The remaining 95 percent related to satellite-based services, and ground-based systems.

Indian industries do not have the resources or the technology to undertake independent space projects of the kind that US companies such as SpaceX have been doing or provide space-based services.

The need for satellite data, imageries and space technology now cuts across sectors, from weather to agriculture to transport to urban development and more.

IN-SPACe is supposed to be a facilitator, and also a regulator. It will act as an interface between ISRO and private parties and assess how best to utilize India's space resources and increase space-based activities.
Significance of private sector participation
There are two main reasons why enhanced private involvement in the space sector seems important. One is commercial, and the other strategic. There is a need for greater dissemination of space technologies, better utilization of space resources, and increased requirement of space-based services.

The private industry will also free up ISRO to concentrate on science, research and development, interplanetary exploration, and strategic launches.

This includes a number of ambitious space missions lined up in the coming years, including a mission to observe the Sun, a mission to the Moon, a human spaceflight, and then, possibly, a human landing on the Moon.