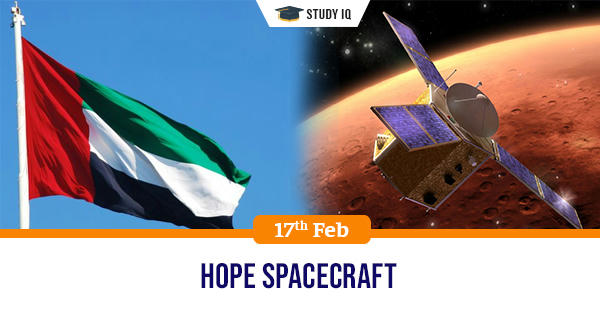 Hope spacecraft
Date: 17 February 2020
Tags: Space
Issue
The UAE is on the verge of making history after turning its dream of becoming the first Arabic and Islamic country to send a spacecraft to Mars into a reality through a spacecraft named Hope.
Background
Although this spacecraft was assembled on U.S. soil, it will not be exploring the red planet for NASA. Hope is instead an effort by the United Arab Emirates.
Details
As a newcomer, the UAE has taken a novel approach. It could have tried to do everything itself, developing homegrown technology similar to what India has done.

That would have taken years longer. It could have bought someone else's spacecraft design, which would have been the quickest path.

The country has sought partners with long experience in sending machines into space. This, its space team believed, would help avoid many of the pitfalls of trying to pull off such missions for the first time while training future engineers who will be expected to step up to bigger roles in the next mission. In the process, the country's leaders hope to sow seeds for future companies.

Hope will be just one of a four robotic spacecraft scheduled to launch this summer during a once-in-26-months alignment of Earth and Mars that enables a relatively short trip to the red planet.

India celebrated putting a spacecraft in orbit around Mars and boasted how its price tag was a fraction of that for MAVEN, a NASA probe that arrived two days earlier. But it did not perform any significant discoveries.

MAVEN has determined how quickly the Martian atmosphere is being stripped away by the solar wind: about 4 pounds a second. This information is an important clue in the puzzle of understanding why early Mars, which was warmer and wetter, turned into the cold, barren, almost airless place it is today.

Hope's aim is to fill in a gap in MAVEN's findings by looking at the dynamics closer to the ground that influence the rate of leaking.

Hope will give scientists a global view of Martian weather, noting changes in temperature and other conditions during the course of a day.