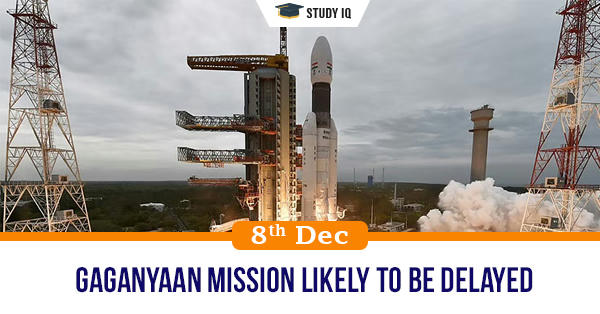 Gaganyaan mission likely to be delayed
Date: 08 December 2020
Tags: Space
Issue
India's first human space flight mission, Gaganyaan, is likely to be delayed by a year owing to the coronavirus disease (Covid-19) pandemic.
Background
In his Independence Day address of 2018, the PM had said that an Indian astronaut will be sent to space before the country celebrates its 75th year of Independence in 2022.
Details
As per the mandate of Gaganyaan, two un-crewed missions would be undertaken prior to the manned mission.

Accordingly, the unmanned missions were slated for launch in December 2020 and July 2021, and the first manned mission was scheduled in December 2021.
Gaganyaan mission
Gaganyaan is an Indian crewed orbital spacecraft that is intended to send 3 astronauts to space for a minimum of seven days by 2022, as part of the Indian Human Spaceflight Programme.

The Gaganyaan project has the objective of demonstrating human space flight capability to Low Earth Orbit with three crew members in orbit and safely recovering them after the mission.

It will be for the first time that India will launch its manned mission to space, making the country fourth in line to have sent a human to space.

ISRO's Geosynchronous Satellite Launch Vehicle GSLV Mk III, the three-stage heavy-lift launch vehicle, will be used to launch Gaganyaan as it has the necessary payload capability.

The mission will enable ISRO to achieve higher levels of reliability in launch and satellite technology. It will help in providing employment to 15,000 people and out of them, 861 will be from ISRO.

ISRO will receive assistance from the French space agency CNES, in terms of expertise various fields including space medicine, astronaut health monitoring, radiation protection, and life support.