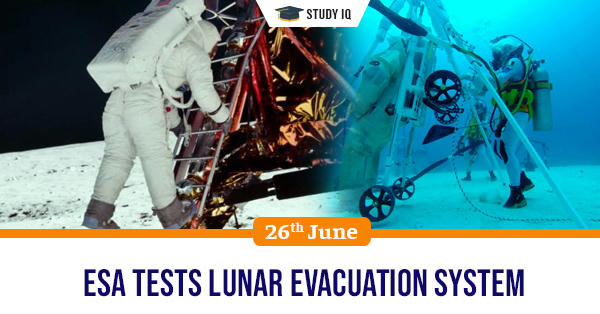 ESA tests Lunar Evacuation System
Date: 26 June 2019
Tags: Space
NASA astronauts tested Evacuation System Assembly (LESA) designed by European Space Agency (ESA) to assist in astronaut rescue missions on surface of Moon. It is claimed to be world's first device aimed to help future incapacitated astronauts.
Testing: It was tested recently under sea as the bottom of ocean floor which is rocky, sandy terrain and warm salty water bears much more similarity with lunar surface.
Lunar Evacuation System Assembly (LESA)
It has been developed by the European Space Agency (ESA). It is a pyramid-like structure designed to rescue an astronaut should he or she suffer an injury on the lunar surface.

How LESA Works?

It enables astronaut to lift their crewmate onmobile stretcher in less than 10 minutes and carry them to safety of nearby pressurised lander.

Currently, astronauts wear heavy extravehicular activity (EVA) suit, wich makes it is impossible for fellow crewmate to carry the injured astronaut over their shoulder while wearing an EVA suit.

Benefits of LESA:

It can be operated just by single astronaut thus ensuring rapid and safe rescue of injured astronaut. It can be transported on smaller vechiles like golf caddy and placed close to fallen astronaut.