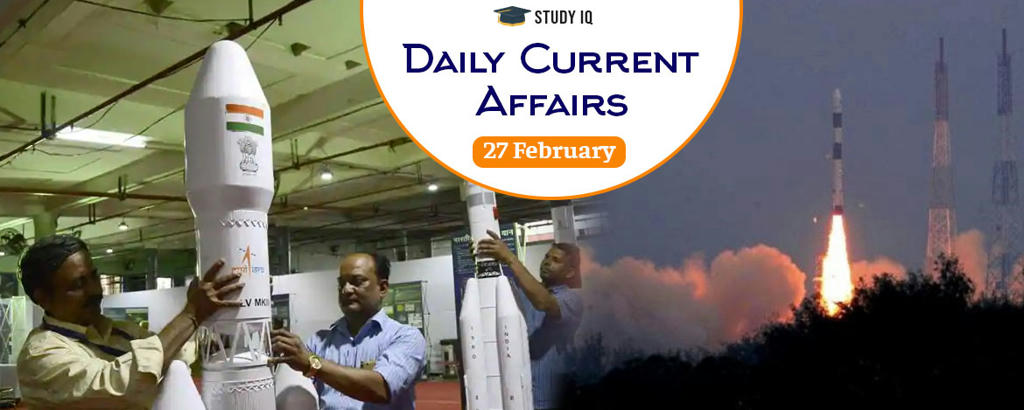 Emisat: ISRO to launch electronic intelligence satellite
Date: 27 February 2019
Tags: Space
Indian Space Research Organisation (ISRO) will be launching electronic intelligence satellite Emisat of Defence Research and Development Organisation (DRDO) in March 2019. It will be launched along with 28 third party satellites on board of Polar Satellite Launch Vehicle (PSLV) rocket with four strap-on motors.
Key Facts
The main passenger (payload) of this PSLV rocket will be DRDO's electronic intelligence satellite 'Emisat', weighing about 420 kg. The remaining 28 satellites will cumulatively weigh about 250 kg.

he experimental payloads include one developed by students of Indian Institute of Space Science and Technology (IISST), ISRO's own technology demonstrator and Hamsat.
Significance of this mission
ISRO for first time will demonstrate its new technologies like three different orbits with new variant of PSLV rocket. In this case, this rocket will place satellites in three different orbits.

After launching Emisat at altitude of 763 km, PSLV rocket will be brought down to put 28 satellites into orbit at altitude of 504 km.

Following that the rocket will be brought down further to 485 km where fourth stage will turn into payload platform carrying three experimental payloads.
PSLV
It is 3rd generation launch vehicle designed and developed by ISRO's Vikram Sarabhai Space Centre, Thiruvananthapuram. It has three variants of PSLV, namely, PSLV-G, PSLV-CA, PSLV-XL.

It consists of four stages, using solid and liquid propulsion systems alternately. It is hailed as reliable and versatile workhorse launch vehicle of ISRO.

Its each stage is self-contained vehicle capable of functioning independently with own propulsion systems.

It is capable of launching 1050 ks satellite in geo-synchronous transfer orbit and 1600 kg satellites in 620 km sun-synchronous polar orbit.