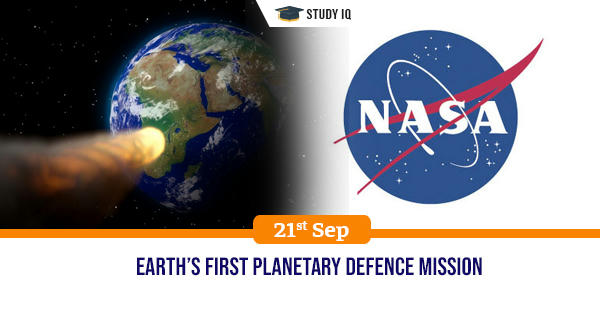 Earth's first Planetary Defence Mission
Date: 21 September 2019
Tags: Space
Issue
Scientists from the National Aeronautics and Space Administration (NASA) and the European Space Agency (ESA) attended a Joint Meeting to discuss the effectiveness and potential implications of asteroid-deflection techniques.
Background
A modest space rocks can cause huge destruction on Earth. Fortunately , asteroid like that has not on earth's way for millions of years. However, scientists believe it is crucial to be prepared for such a catastrophic prospect all the same. And that's what the NASA-ESA joint initiative Asteroid Impact and Deflection Assessment (AIDA) aims to do.
Details
Scientists are already capable of tracking and predicting asteroid trajectories, we may also possess the technology to change an asteroid's course.

AIDA intends to put this very technology to test starting July 2021, by conducting a trial run.

The AIDA has designed a two-phase mission, which will begin with NASA's Double Asteroid Redirection Test (DART) launch in July 2021, and its subsequent collision with asteroid 'Didymos B' in September 2022.

In the second phase, ESA's Hera mission will visit the same asteroid in 2027, to investigate the outcome of the impact.

The AIDA will try to estimate the efficiency of the kinetic impact by measuring the post-collision mass of Didymos B. It will also conduct a detailed examination of the impact crater, so as to characterise the physical and mineralogical properties of the Didymos asteroid pair.
DART mission
Double Asteroid Redirection Test is a planned space probe that will demonstrate the kinetic effects of crashing an impactor spacecraft into an asteroid moon for planetary defense purposes.

The mission is intended to test whether a spacecraft impact could successfully deflect an asteroid on a collision course with Earth.