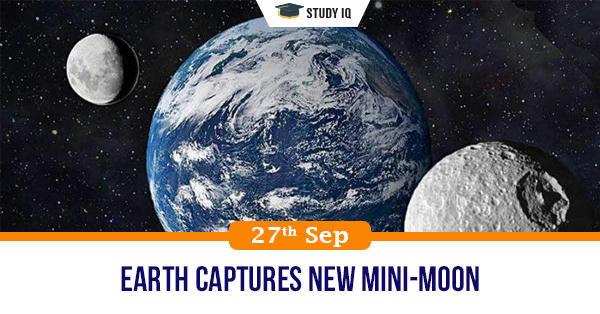 Earth captures new mini-moon
Date: 27 September 2020
Tags: Space
Issue
The Earth has temporarily captured a new mini-moon which is between the size of a cow and a hippopotamus.

Background
The new moon that is temporarily bound to Earth was discovered by the International Astronomical Union's Minor Planet Centre. The organisation is responsible for the designation of minor bodies in the solar system.

Details
The mini-moons are pulled into the Earth's orbit due to the Earth's, the moon's, and the sun's gravity at the same time, which produces irregular orbits.

The astronomer has estimated that the 'mini-moon' entered Earth's orbit some three years ago.

Meanwhile, the mini-moon is likely to stick around the Earth from October 2020 to May 2021. Within this period, the heavenly body is expected to edge closer to Earth.

Many asteroids or natural satellites get sucked into Earth's orbit for a short while and end up revolving around our planet while revolving around our star.

These then either manage to leave the orbit and get back on track revolving around the Sun or get sucked into Earth's atmosphere.

Owing to the similarity in its orbit, observers analyzed 2020 SO's current movements and extrapolated them backwards in time by using computer simulations.

These experiments have revealed that this object would have last orbited Earth in 1966 or 1967.

This can mean two things: either 2020 SO is a natural satellite that last orbited Earth in the 1960s or it is part of a man-made rocket that was launched during this period.