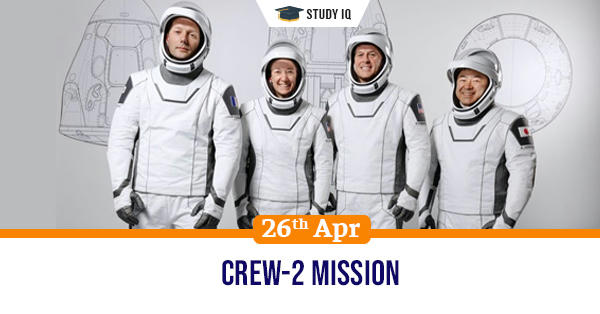 Crew-2 mission
Date: 26 April 2021
Tags: Space
Issue
Four astronauts were launched to International Space Station (ISS) as a part of collaboration between SpaceX and NASA.
Background
The mission to send astronauts to ISS has been named Crew-2 mission and is part of rotation of SpaceX Crew Dragon.
Details
Two members of the crew belong to NASA and the rest of them belong to Japan Aerospace Exploration Agency (JAXA) and the European Space Agency (ESA).

NASA had undertaken SpaceX Demo-2 to check if SpaceX modules can be used to ferry astronauts to ISS and back. Crew-1 mission was the first among NASA's collaboration with SpaceX.
Studies in ISS
The astronauts will conduct experiments to investigate food physiology and study effects of low gravity on dietary habits. There will also be studies on gut biomes and immune system.

There will also be studies involving tissue chips to understand behaviour of organs in space conditions. Tissue chips have potential to identify safe and effective drugs and vaccines.

Progression of aging and diseases occur more quickly in microgravity conditions than earth. Diseases that take months to affect human organs can be studied faster in space.
Commercial crew program
The program aims to simplify transportation of cargo and crew easily to and from the ISS. This will lower the cost of space studies in future.

NASA can focus more on building technology for deep space exploration missions if commercial companies provide crew transportation services.

NASA pays cost to companies such as Boeing and SpaceX for giving them transport services to and from the ISS.