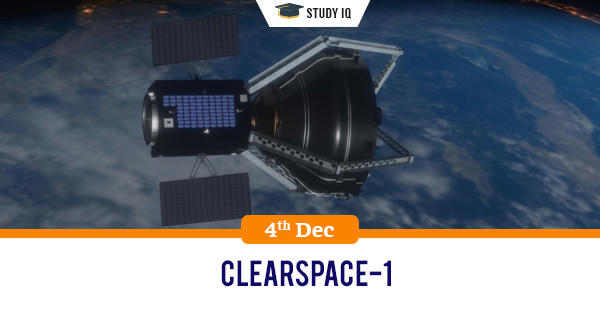 ClearSpace-1
Date: 04 December 2020
Tags: Space
Issue
ESA has signed a contract with Swiss start-up ClearSpace SA to purchase a unique service of removing space debris from orbit.
Details
ClearSpace will launch the first active debris removal mission, ClearSpace-1, which will capture and take down for re-entry the upper part of a Vespa (Vega Secondary Payload Adapter) used with Europe's Vega launcher.

Paying for such a service contract rather than directly procuring and running the entire mission represents a new way for ESA to do business.

ESA is also contributing key technologies for flight, developed as part of the agency's Clean Space initiative through its Active Debris Removal/ In-Orbit Servicing project, ADRIOS.

These include advanced guidance, navigation and control systems, and vision-based AI, allowing the chaser satellite to close safely on the target on an autonomous basis, as well as robotic arms to achieve capture.

The ClearSpace-1 mission will initially be launched into a lower 500 km orbit for commissioning and critical tests, before being raised to the target orbit for capture using a quartet of robotic arms.

With overall satellite numbers set to grow rapidly in the coming decade, regular removals are becoming essential to keep debris levels under control, to prevent a cascade of collisions that threaten to make the debris problem much worse.
Space debris
Space debris is any piece of machinery or debris left by humans in space. It can refer to big objects such as dead satellites that have failed or been left in orbit at the end of their mission. It can also refer to smaller things, like bits of debris or paint flecks that have fallen off a rocket.

While there are about 2,000 active satellites orbiting Earth at the moment, there are also 3,000 dead ones littering space.

There are around 34,000 pieces of space junk bigger than 10 centimetres in size and millions of smaller pieces that could prove disastrous if they hit other satellites.