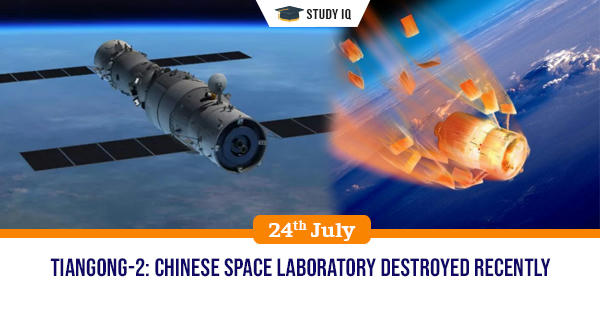 TIANGONG-2: Chinese space laboratory destroyed recently
Date: 24 July 2019
Tags: Space
Tiangong-2, a manned Chinese space station (lab) was destroyed recently upon its controlled re-entry into Earth's atmosphere over Pacific Ocean. The space state was retired from service after it had completed its experiments in space. During the re-entry phase, most of Tiangong-2 had burnt up in the atmosphere and its remaining debris fell near Point Nemo (spacecraft cemetery), the most remote location on Earth. It followed similar decommissioning course of its predecessor Tiangong-1, China's first space station, which crashed into the southern Pacific Ocean in April 2018.
About Tiangong-2
In English Tiangong means Heavenly Palace.

It was space laboratory launched in September 2016 part as part of China's ambitious space station program aimed at placing Chinese large modular space station in Low Earth orbit (LEO) by 2022.

It was China's second experimental space station module and had replaced Tiangong-1 (China's first space station) which had ended its operational life in March 2016.

It had upgraded habitat with improved life support systems, power, communications and research equipments.

In late 2016, it hosted two Chinese astronauts for 30 days (It was China's longest manned space mission so far).
About Point Nemo
In Latin Nemo means "no one". It most remote place on Earth (nearest land is approximately 2,415 kilometres away). It lies in the South Pacific Ocean and is relatively lifeless. It is also known as a "spacecraft cemetery" because it used to crash-land defunct satellites, space stations, and other spacecraft upon re-entering the atmosphere. It is chosen for crash-land due to its remoteness, so as not to endanger or harm human and oceanic life.