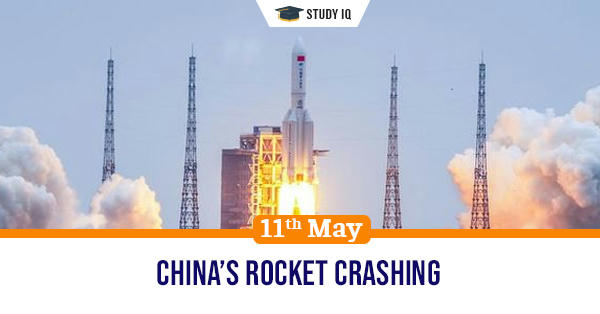 China's rocket crashing
Date: 11 May 2021
Tags: Space
Issue
The Chinese rocket's debris made an uncontrolled entry back into Earth and crashed into the Indian Ocean west of Maldives.
Background
China has launched the Tianhe space module for future space station and the rocket was used for its space journey.
Details
There was criticism from all quarters regarding the area of impact. NASA had termed it as lack of responsible standards.

The rocket usually separates from the core module before it escapes the Earth and falls into the ocean.

In this case however, the rocket went into the space along with the core module. It was here that it lost its control and made a descent.

Chinese space agency had not admitted that the rocket was about to crash until the rocket entered over Mediterranean, passed over Arabian Peninsula and finally crashed into the ocean.

A similar incident occurred last year when parts of a Chinese rocket crashed over Ivory Coast. This was one of the biggest such crashes after the Soviet space station Salyut 7 in 1991.
Reason for entry
Rockets carry their payloads outside the atmosphere and fix them in their orbit. They are then made to fall back onto the Earth over uninhabited places.

China has not programmed its Long March to fall over uninhabited places but rather it falls on its own. This is dangerous as there are plans of future Long March missions.
Previous instances
A soviet nuclear-powered satellite crashed in Canada that forced Moscow to bear the cost of cleaning the radioactive waste.

When NASA's Skylab was also brought down, some of the debris was scattered over Australia. This forced them to apologise to the government.