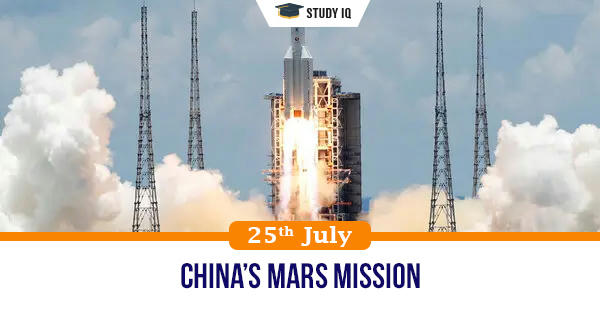 China's Mars mission
Date: 25 July 2020
Tags: Space
Issue
China has launched a rover to Mars, signalling a space race with the US, with NASA set to launch its own rover on July 30.
Background
This is a period that offers a window for such launches, with the alignment of Earth and Mars allowing a short journey.
Details
China's first Mars probe is called Tianwen-1 (formerly Huoxing 1), which means "Questions to Heaven". The spacecraft consists of an orbiter, a lander and a rover, and the mission aims to study the thickness and sub-layer distribution of the Martian soil.

The scientific goals of the mission include studying Martian topography and geology and determining the composition of the surface material, climate, and environment.

Tianwen-1 will reach the Red Planet's orbit in February 2021. The rover will land on Mars in May.

The orbiter will use high-resolution cameras to search for a suitable landing site somewhere in the Utopia Planitia region.

It weighs around 240 kg and will carry cameras, a subsurface radar, a spectrometer, a magnetometer, and atmospheric sensors.
The US mission
NASA's newest rover Perseverance will look for signs of habitable conditions on Mars and microbial life in its ancient past. Over its mission duration of one Martian year (687 Earth days), it will collect Martian rock and sediment samples for analysis on Earth.

The rover is equipped with specialised equipment to collect data, analyse weather conditions that can help plan for future human missions, and produce oxygen from the carbon-dioxide-rich atmosphere.

Perseverance is expected to touch down on Mars on February 18, 2021. NASA's Curiosity rover has been exploring Mars since 2012. It remains active although its targeted mission life is over.