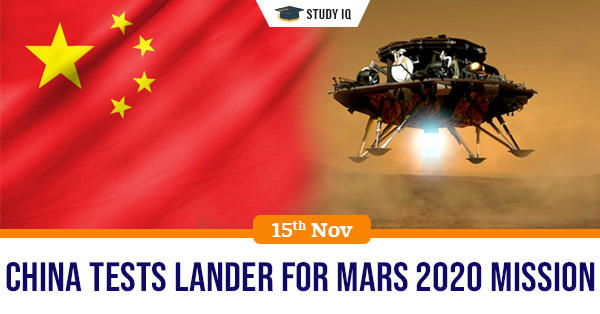 China tests lander for Mars 2020 mission
Date: 15 November 2019
Tags: Space
Issue
China has successfully completed a lander test ahead of an unmanned exploration mission to Mars next year.
Background
China is on track to launch its Mars mission in 2020. The journey through space will take about seven months, while landing will take seven minutes.
Details
China has developed the powerful long March 5 rocket to transport the probe to Mars in 2020.

The same rocket is meant to deliver the Chang'e-5 probe to the moon by the end of 2019 or early next year to bring back samples of lunar rocks.

China expects to complete a modular space station around 2022, as a pit stop for missions to other parts of the solar system.

China has been racing to catch up with Russia and the United States and become a major space power by 2030.
Mars missions
InSight (NASA)
Using a seismometer, heat flow probe, and precision tracking it seeks to explore the deep interior of Mars and improve our understanding of the formation of terrestrial planets.
ExoMars Trace Gas Orbiter (ESA)
The main objectives of this mission are to search for evidence of methane and other trace atmospheric gases that could be signatures of active biological or geological processes.
MAVEN (NASA)
Performs measurements to address key questions about Mars climate and habitability and improve understanding of dynamic processes in the upper Martian atmosphere and ionosphere.
Mars Orbiter Mission (ISRO)
Mission is India's first interplanetary spacecraft. It is primarily a technology demonstration mission that carries a small, 15-kilogram payload of 5 science instruments.
Curiosity Mars Rover (NASA)
It landed in Gale Crater, the location of a 5+ km tall mound of layered sedimentary material, which Curiosity has found was at least partially deposited in a lake setting.
Mars Express (ESA)
Mars Express has detected surprising concentrations of methane and evidence for recent volcanism on Mars.
ExoMars Rover (ESA- future)
ESA's ExoMars 2020 mission will deliver a European rover and a Russian surface platform to the surface of Mars.
ExoMars will be the first mission to combine the capability to move across the surface and to study Mars at depth.
Mars 2020 (NASA)
It is an astrobiology-geared mission to look at surface geology and assess past and present habitability and the potential for preservation of bio signatures.
Emirates Mars Mission (UAE)
The Emirates Mars Mission, which consists of an orbiter called Hope, will study Mars' climate and attempt to build a complete picture of the planet's seasonal atmospheric cycles. It will be the Arab world's first mission to another planet.