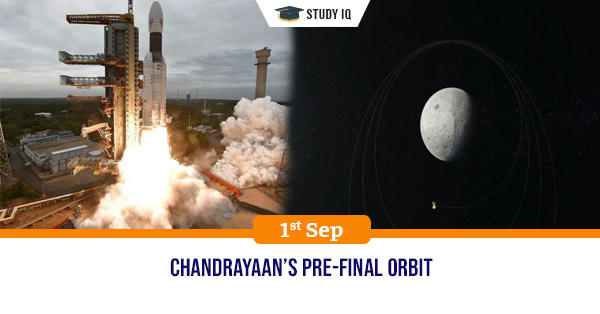 Chandrayaan's pre-final orbit
Date: 01 September 2019
Tags: Space
Issue
The fourth lunar bound orbit manoeuvre for Chandrayaan-2 spacecraft was performed successfully on August 30 using the on-board propulsion system. All spacecraft parameters are found to be normal. It was the fourth orbit manoeuvre since the orbiter-lander reached the moon's vicinity.
Background
Chandrayaan 2 is ISRO's second moon orbiter mission. This mission aims to further expand the knowledge about the moon through a detailed study of its topography, mineralogy, surface chemical composition, thermo-physical characteristics and atmosphere, leading to a better understanding of the origin and evolution of the Moon.
Details
The team of ISRO engineers further nudged the Chandrayaan-2 spacecraft closer to moon in an operation lasting 20 minutes. The spacecraft will now go around the moon in an almost circular orbit, eventually getting into the desired orbit of around the moon.

In a major milestone for India's second Moon mission, the Chandrayaan-2 spacecraft had successfully entered the lunar orbit on August 20 by performing Lunar Orbit Insertion (LOI) manoeuvre.

There will be one more orbit manoeuvre on to make the spacecraft enter its final orbit, passing over the lunar pole at a distance of about 100 km from the Moon's surface.

It will then perform a series of complex braking manoeuvres to soft land in the South polar region of the Moon on September 7, 2019.
Other details
India's Geosynchronous Satellite Launch Vehicle, GSLV MkIII-M1 successfully launched the 3,840-kg Chandrayaan-2 spacecraft into the earth's orbit.

After landing, the rover 'Pragyan' will roll out from lander 'Vikram' and carry out experiments on the lunar surface for a period of one lunar day, equivalent to 14 earth days.

The orbiter carries eight scientific payloads for mapping the lunar surface and studies the exosphere (outer atmosphere) of the Moon, while the lander carries three scientific payloads to conduct surface and subsurface science experiments.