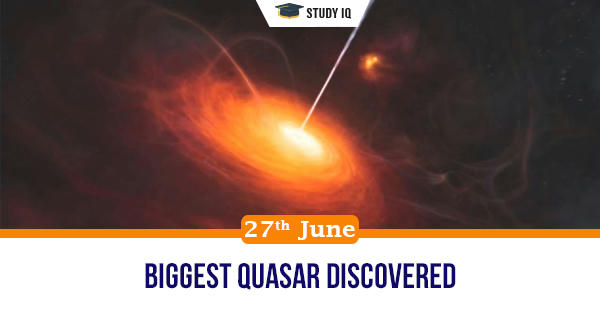 Biggest Quasar discovered
Date: 27 June 2020
Tags: Space
Issue
Astronomers have discovered the second-most distant quasar ever found using three Observatories in Hawai'i.
Background
It is the first quasar to receive an indigenous Hawaiian name, P?niu?`ena. It is only the second quasar yet detected at a distance calculated at a cosmological redshift greater than 7.5.
Details
Spectroscopic observations from Keck Observatory and Gemini Observatory show the supermassive black hole powering P?niu?`ena is 1.5 billion times more massive than our Sun.

Current theory holds the birth of stars and galaxies as we know them started during the Epoch of Reionization, beginning about 400 million years after the Big Bang. The growth of the first giant black holes is thought to have occurred during that same era in the universe's history.

The discovery of quasars like P?niu?`ena, deep into the reionization epoch, is a big step towards understanding this process of reionization and the formation of early supermassive black holes and massive galaxies.
Quasars
A quasar is an extremely luminous active galactic nucleus, in which a supermassive black hole with mass ranging from millions to billions of times the mass of the Sun is surrounded by a gaseous accretion disk.

As gas in the disk falls towards the black hole, energy is released in the form of electromagnetic radiation, which can be observed across the electromagnetic spectrum.

The power radiated by quasars is enormous: the most powerful quasars have luminosities thousands of times greater than a galaxy such as the Milky Way.
Pulsar
A pulsar is a highly magnetized rotating neutron star that emits beams of electromagnetic radiation out of its magnetic poles. This radiation can be observed only when a beam of emission is pointing toward Earth, and is responsible for the pulsed appearance of emission.