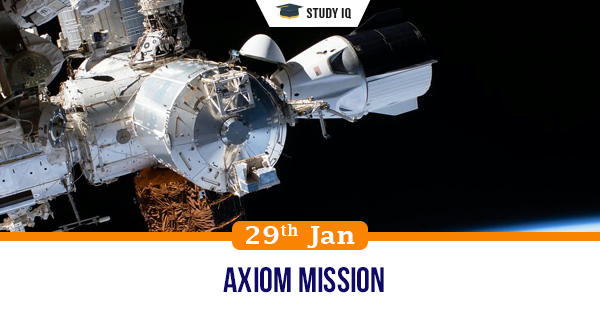 Axiom Mission
Date: 29 January 2021
Tags: Space
Issue
A former Israeli fighter pilot, an American technology entrepreneur, and a Canadian investor will be part of the crew of the first entirely-private orbital space mission.
Background
The three men are paying a whopping $55 million each to fly aboard a SpaceX rocket for an eight-day visit to the International Space Station, organised by spaceflight firm Axiom.
Details
The Axiom Mission 1 (AX 1) flight is being arranged under a commercial agreement with NASA.

While private citizens have travelled to space before, the AX 1 mission will be the first to use a commercially built spacecraft, the SpaceX Dragon 2.

After lifting off from Cape Canaveral in Florida, the crew will take about a day or two to arrive at the ISS and will then proceed to spend eight days there.

Axiom insists that the mission is by no means a vacation. The three men will participate in research and philanthropic projects alongside the astronauts from all over the world who are already stationed at the ISS.

Private astronauts will have to pass medical tests and also undergo 15 weeks of rigorous training before their trip to space.
Significance
Private civilians have travelled to the space station before. Since 2001, Russia has been selling rides to the ISS to wealthy businessmen around the world.

They travelled onboard the Russian Soyuz aircraft along with professional cosmonauts and NASA astronauts.

Until 2019, NASA did not permit ordinary citizens to be launched into space from American soil. It finally reversed its stance, stating that the missions would help spur growth in the commercial space industry.

Several other space companies, including Jeff Bezos' Blue Origin and Richard Branson's Virgin Galactic, also plan to take paying customers to space in the near future.