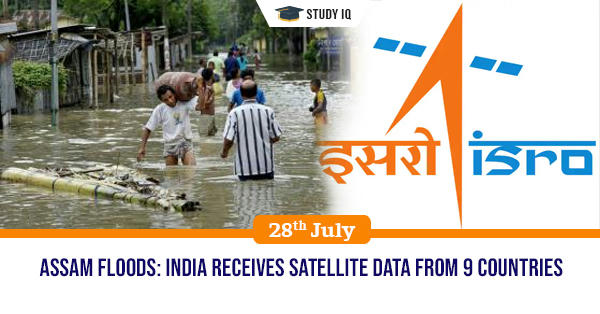 Assam Floods: India receives satellite data from 9 countries
Date: 28 July 2019
Tags: Space
India received satellite data about Assam floods from 9 countries under International Charter, Space and Major Disasters. The data was shared based on the request activation by National Remote Sensing Center (NRSC) on behalf of Indian Space Research Organisation (ISRO). The first set of data was received from China's Gaofen-2 satellite. Space agencies of other countries gave information as and when their satellites passed over the flood affected areas.
About International Charter, Space and Major Disasters
It is multi-lateral mechanism for sharing space-based information for countries affected by natural or man-made disasters for the benefit of disaster management.

It is a non-binding charter which provides for charitable and humanitarian retasked acquisition of and transmission of space satellite data to relief organizations in the event of major disasters.

It aims to combine Earth observation assets from different space agencies for sharing resources and expertise for rapid response to major disaster situations.

It was initiated by European Space Agency (ESA) and French space agency CNES after UNISPACE III conference held in Vienna, Austria in July 1999. It officially came into operation in November 2000.

Currently there are 17 charter members and 61 contributing satellites. NRSC represents ISRO as a member of the charter.

It delivers date on ongoing basis throughout duration of Charter activation by country and provides valuable information about disaster that is not possible to obtain on the ground.

It was activated for first time for floods in northeast France in December 2001. Since it has been activated for numerous floods, earthquakes, oil spills, forest fires, tsunamis, major snowfalls, volcanic eruptions, hurricanes and landslides,

As of July 201o, it had had 614 activations, from 125 countries (including India), and had 17 members, which contributed 61 satellites. It had won the prestigious Pecora award in 2017.
Background
Earth-observation satellites are mainly deployed in space to capture high-resolution pictures of land and ocean surfaces. Most of these satellites move at great speeds in their orbits around earth and remain over particular area for barely seconds. They return to that point only hours (sometimes days later). However, in case disaster hits in country, its satellites might not be in proper place at that time to view affected area, but satellite some other country may be present above this disaster affected area. By pooling their satellites resources, countries help out a member country that requests information for satellite pictures and data. This also helps country access satellite pictures of varying resolutions, different angles, and taken at different times.