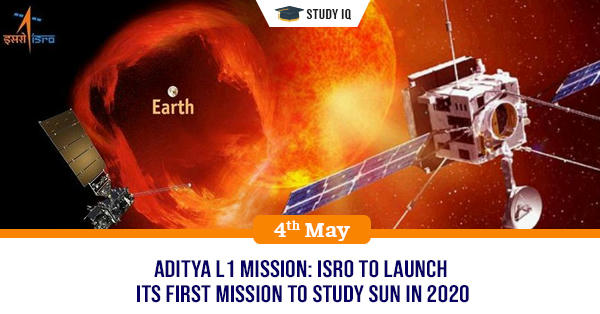 Aditya L1 Mission: ISRO to launch its first mission to study sun in 2020
Date: 04 May 2019
Tags: Space
India Indian Space Research Organisation (ISRO) has announced that it will launch its first solar mission Aditya-L1 in early 2020. It will be first dedicated scientific mission of India to holistically study sun.
Aditya L1 Mission
It aims to put 800-kg heavy class Aditya-L1 satellite into halo orbit around Lagrangian point L1 of Sun and Earth system.

L1 point is situated at distance of about 1.5 million km from earth. It provides major advantage of viewing the sun without any occultation/ eclipses,

Aditya L1 will be first satellite in the world to study magnetic field of the sun's corona.

The satellite will carry seven payloads including the main payload Visible Emission Line Coronagraph (VLEC).

It will study dynamic nature of sun's outer most layers, corona and chromosphere and collect data about Coronal Mass Ejections (CME).

It will study about origin of solar storms and their path through interplanetary space from Sun to the Earth. It will provide information for space weather prediction.