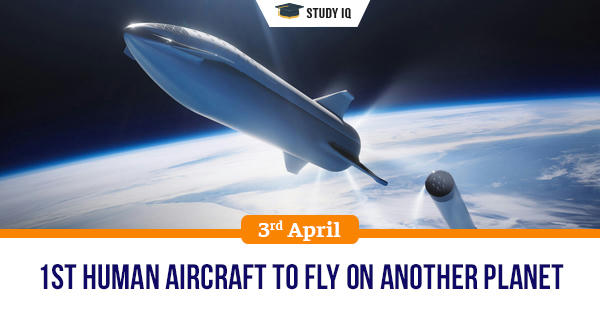 1st human aircraft to fly on another planet
Date: 03 April 2020
Tags: Space
Issue
NASA's Mars Helicopter, which will be attached to NASA's Mars Rover named Perseverance during the mission, has successfully completed its testing stages. It will be the first aircraft to be flown on any other planet in human history.
Background
With NASA eyeing Mars as the first habitable planet for humans after Earth, its Mars 2020 mission to reach its surface and establish a human base there is in full swing.
Details
The testing phase marked the last time that the rotors of the helicopter have been operated on Earth and the next flight to be taken by the helicopter will be straight on Mars.

NASA has used a twin-rotor mechanism to make it fly. The helicopter derives its energy from the sun through solar panels. Once on Mars, the helicopter will remain encapsulated until the mission managers determine an acceptable area to conduct test flights.

The Mars helicopter comes as a part of a larger initiative in the shape of a rover named Perseverance.
Perseverance program
Perseverance is supposed to take-off for Mars in the middle of July onboard a United Launch Alliance Atlas V 541 rocket next year. It will then land on the red planet on February 18, 2021.

NASA's Mars Exploration Program is aimed at looking for signs of any microbial life on the planet as well as characterizing the planet's climate and geology. The knowledge garnered through this will eventually help in any future human establishments on Mars.

Perseverance carries a special commemorative plate that holds small silicon chips bearing the names of more than 10.9 million people who participated in NASA's "Send Your Name to Mars" campaign.

Perseverance will have other duties as well. Chief among them will be to collect and cache samples for a future return to Earth, where scientists will be able to analyze them in detail in well-equipped labs.