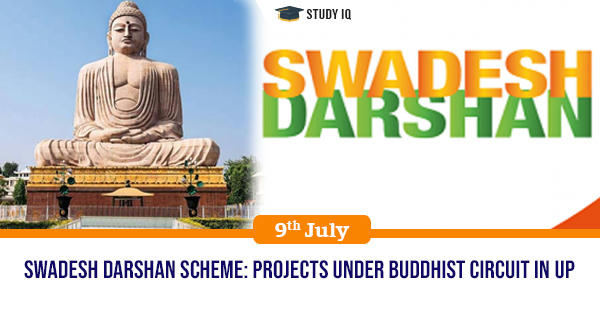 Swadesh Darshan Scheme: Projects under Buddhist Circuit in UP
Date: 09 July 2019
Tags: Society
Government has sanctioned project for development of Srawasti, Kushinagar & Kapilvastu in Uttar Pradesh under the Buddhist Circuit theme of Swadesh Darshan Scheme in the year 2016-17. It was The informed by Union Tourism Minister of State (I/C) Prahlad Singh Patel in reply to question in Lok Sabha.
Key facts
Ministry of Tourism has identified Buddhist Circuit as one of 15 thematic circuits for development under Swadesh Darshan Scheme. All sites in country related to Buddhism including the ones in Uttar Pradesh are covered under this Circuit.
Swadesh Darshan scheme
It is one of flag

ship schemes of Ministry of Tourism launched in 2014 for development of thematic circuits i.e. theme-based tourist circuits across the country in a planned and prioritised manner.

These tourist circuits are being developed on the principles of high touri

st value, competitiveness and sustainability in an integrated manner.

It is 100

%

centrally funded scheme. It also has provision for leveraging voluntary funding

under Corporate Social Responsibility (CSR) initiatives of Central PSUs and corporate sector.

15 thematic circuits that have been identified so far for development under it are Buddhist, North-East

India, Coastal, Himalayan, Krishna, Desert, Eco, Wildlife, Tribal, Rural, Sufi, Tirtankar, Spiritual, Ramayana and Heritage.

Such theme based tourist circui

ts are being developed in manner to supports communities, provide employment and fosters social integration without comprising upon environmental concerns and provides unique experiences to tourists.

Identification of Projects:

The projects to be taken up for development under above scheme are identified in consultation with State Governments/UT Administrations and are sanctioned subject to submission of project proposals, their adherence to relevant scheme guidelines, submission of suitable detailed project reports, availability of funds and utilization of funds released earlier.

Funding of projects:

It varies from state to state. It is finalised on the basis

of detailed project reports prepared by Programme Management Consultant (PMC) which is national level consultant for implementing the scheme.