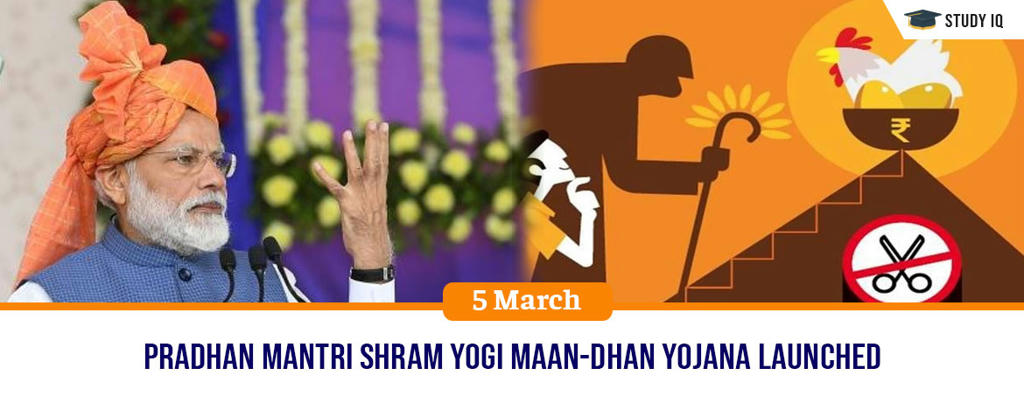 Pradhan Mantri Shram Yogi Maan-Dhan Yojana launched
Date: 05 March 2019
Tags: Health, Banking & Financial Sector, Society
Prime Minister Narendra Modi launched mega pension scheme- Pradhan Mantri Shram Yogi Maan-dhan Yojana (PM-SYM) for unorganised sector from Gandhinagar, Gujarat. It was announced in the Interim Budget 2019. It is voluntary and contributory pension scheme that will benefit as many as 10 crore workers in unorganised sector. It will be one of largest pension schemes of world (become largest in 5 years) in terms of subscriber targeted base.
Pradhan Mantri Shram Yogi Maan-dhan Yojana (PM-SYM)
It will provide assured monthly pension of Rs 3000 to employees of unorganised sector after 60 years of age based on their monthly contribution of small affordable amount during their working age.

Intended beneficiaries:

Unorganised sector workers with monthly income upto Rs. 15,000 and belonging to entry age group of 18-40 years.

Non-eligible:

Organized workers covered under New Pension Scheme (NPS), Employees' State Insurance Corporation (ESIC) scheme or Employees' Provident Fund Organisation (EPFO) are not eligible for it. Income tax payers are also not eligible.

Workers of unorganised sector:

Home based workers, agricultural workers, construction workers, mid-day meal workers, street vendors, head loaders, cobblers, rag pickers, brick kiln workers, washer men, rickshaw pullers, domestic workers, landless labourers, beedi workers, handloom workers, leather workers and similar other occupations.

Minimum Assured Pension:

Each subscriber under it will receive minimum assured pension of Rs. 3000 per month after attaining age of 60 years.

In case of death during receiving pension (after 60 years), then his or her spouse will be entitled to receive 50% of pension as family pension. It will be only applicable to spouse.

In case of death before age of 60 years then spouse of beneficiary will be entitled to continue scheme subsequently by payment of regular contribution or may even exit the scheme

Contribution of Subscriber:

Unorganised sector worker, joining this scheme is required to contribute prescribed contribution amount from age of joining scheme till the age of 60 years.

Medium of contribution:

It will be through 'auto-debit' facility from savings bank account or from Jan- Dhan account of subscriber.

Central Government's contribution:

Central Government will make prescribed age-specific contribution by the beneficiary on 50:50 basis.