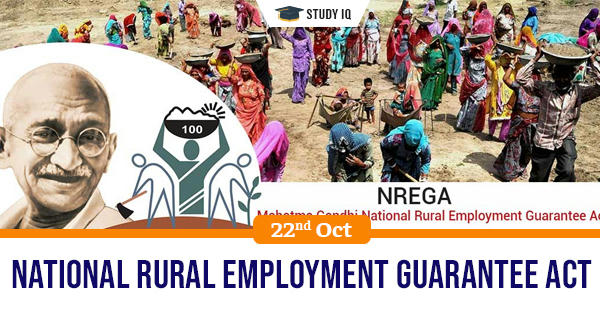 National Rural Employment guarantee Act
Date: 22 October 2019
Tags: Society
Issue
A steady increase in the number of young people, in the age group of 18-30, seeking employment under the Mahatma Gandhi National Rural Employment Guarantee Act (MGNREGA) is taking place.
Background
The reason behind this rising trend of entry level workforce among MGNREGA workers could be a reflection of rural distress and lack of employment opportunities.
Details
An analysis of age-wise data of persons employed in MGNREGA indicates that the share of workforce in the 18-30 age bracket began moving up after financial year 2017-18.

The total number of young workers (18-30 years) employed under the job guarantee scheme was more than 1 crore in 2013-14 which came down to 58.69 lakh in 2017-18. However, their number started rising again and reached 70.71 lakh in 2018-19.

Data shows the total number of individuals who worked under MGNREGA has also gone up in recent years.

Due to slowdown, the young people are forced to make their living out of subsistence level jobs, which is provided by MGNREGA.

The age group of 18-30 yrs is the entry-level workforce. In a growing economy and a young nation, subsistence-level job guarantee should be their last resort. The upward trend is a matter of concern.
MGNREGA
National Rural Employment Guarantee Act 2005 or MGNREGA is an Indian labour law and social security measure that aims to guarantee the 'right to work'.

It aims to enhance livelihood security in rural areas by providing at least 100 days of wage employment in a financial year to every household whose adult members volunteer to do unskilled manual work.

Another aim of MGNREGA is to create durable assets (such as roads, canals, ponds and wells). Employment is to be provided within 5 km of an applicant's residence, and minimum wages are to be paid.

If work is not provided within 15 days of applying, applicants are entitled to an unemployment allowance. Thus, employment under MGNREGA is a legal entitlement.

MGNREGA is to be implemented mainly by gram panchayats (GPs).

The involvement of contractors is banned. Labour-intensive tasks like creating infrastructure for water harvesting, drought relief and flood control are preferred.