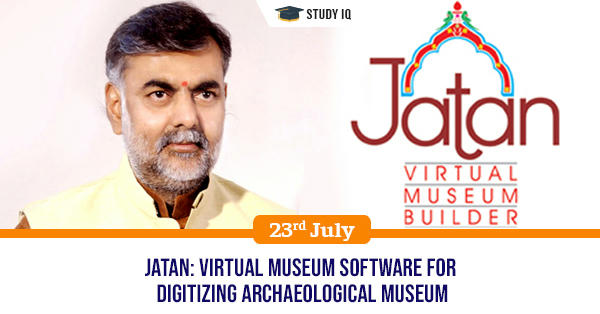 JATAN: Virtual Museum software for digitizing archaeological museum
Date: 23 July 2019
Tags: Society
Union Minister of State (I/c) of Culture and Tourist Prahlad Singh Patel in a written reply in the Lok Sabha informed that digitization of Archaeological Museum across the country is being done through special software JATAN in a phased manner.
JATAN: Virtual Museum Builder Software
It is virtual museum software used for creating digital collections in various museums and digital archival tools that are used in background for managing National Portal and Digital Repository for Indian Museums.
It has been developed and hosted by Human Centres Design and Computing (HCDC) Group, Centre for Development of Advanced Computing (C-DAC) Pune, as per agreement with Union Ministry of Culture.
Implementation status: Total 48 Archaeological Site Museums under Archaeological Survey of India will be digitised through JATAN. In phase I, two archaeological site museums, namely - Velha (Goa) and Nagarjunakonda (Andhra Pradesh) have been digitised. Rest 46 archaeological museums will be digitised in phase-wise manner.
About National Portal and Digital Repository for Indian Museums
It aims to digitize collections of museums to provide better access and information on various themes, national and regional histories and rich craftsmanship that is reflected in Indian art. It contains a vast and rich resource of the museum collections of India and their stories.