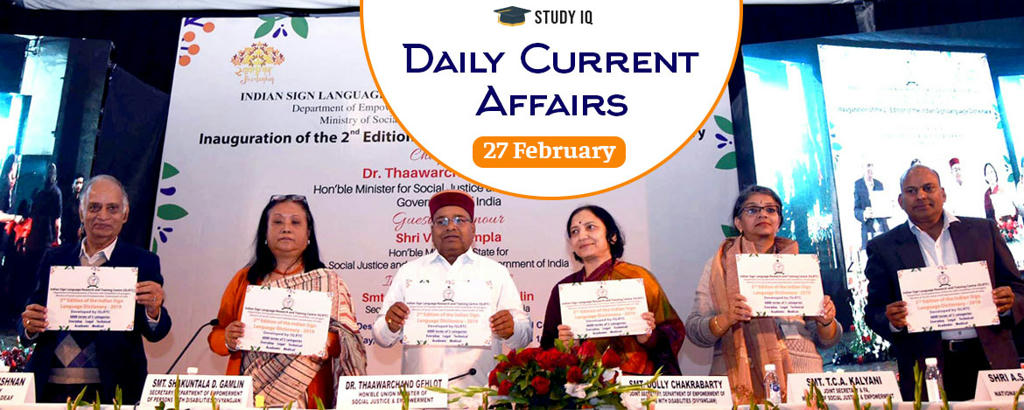 2nd edition of Indian Sign Language Dictionary launched
Date: 27 February 2019
Tags: Society
The second edition of Indian Sign Language (ISL) Dictionary having total 6000 words was launched recently. The first edition of the dictionary was launched in March 2018 with 3000 words. It has been prepared by Indian Sign Language Research and Training Centre (ISLRTC) under Department of Empowerment of Persons with Disabilities (DEPwD), Union Ministry of Social Justice and Empowerment.
2nd edition of ISL Dictionary
It includes total 6000 words under categories of academic, legal, medical, technical and everyday terms. It is available in both print and video formats.

It will help to bring uniformity in sign languages which are used by differently abled people especially people with hearing or speech impairment.

Its videos contain sign, English term for the sign and pictures where relevant. Its word list is also given with the English and Hindi equivalents of signs.

It is also available on YouTube channel of ISLRTC. In it, around 1000 videos already have been uploaded and the rest are in the process of being uploaded.
Benefits of ISL Dictionary
It will help around 50.71 lakh hearing impaired persons in India (according to Census 2011) as most of the deaf people use Indian Sign Language to communicate.

It will offer these people maximum number of words, which will expand their learning and also help them express their feelings and ideas in better way.

It will serve as resource for ISL learners, ISL teachers, teachers of deaf people, interpreters, parents of hearing impaired children, researchers, etc.