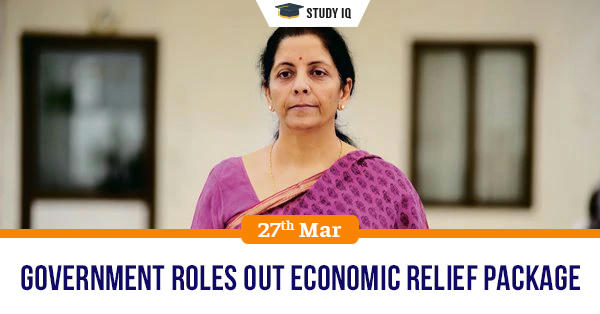 Government roles out economic relief package
Date: 27 March 2020
Tags: Society
Issue
The government has unveiled the first set of measures to address the looming economic distress set off by the shutdown of business and destruction of demand.
Background
The announcements come when the government is hard-pressed to create the headroom for additional spending in a fiscally difficult year.
Details
Union Finance Minister Nirmala Sitharaman announced a package that aims to provide, for the next three months, free food to the "poorest of the poor", some income support to farmers and unorganised sector workers, a Rs 50-lakh medical insurance cover for health care staff and a Rs 500-transfer to women Jan Dhan account holders.

Officials indicated that a package for the MSME sector and a broader income-support scheme for migrant and farm workers, which was being expected, are likely to follow.

The government has unveiled the Pradhan Mantri Garib Kalyan Yojana to provide free wheat, rice and pulses to nearly 80 crore people across the country, or two-thirds of the country's population, for a period of three months. Under the scheme, each person will be given, free, 5 kg wheat or rice each month for the next three months.

The government will also provide free of cost 1 kg of pulses per family of their preferred choice (tur, urad, chana), for next three months.

Planned income transfers to the farmers are also being front-loaded, with the government providing Rs 2,000 to each farmer during April, covering a total of 8.7 crore farmers across the country.

Free gas cylinders will be provided to 8 crore poor families registered under Ujjwala for the next three months.

Daily wage under the Mahatma Gandhi National Rural Employment Guarantee Scheme is being raised from Rs 182 per day to Rs 202 per day with effect from April 1.

For senior citizens, widows and divyang (people with disability),the government announced an ex-gratia income support of Rs 1,000 (in two installments), aimed at helping nearly 3 crore individuals.

In a boost to self-help groups (SHGs), the government has announced an increase in the limit for collateral-free lending for women- organized SHGs from Rs 10 lakh to Rs 20 lakh to support almost 6.85 crore households.

For the organized sector under EPFO, for the next three months, the government announced that it will pay both employees' and employers' monthly contributions under the Employees' Provident Fund (EPF) for workers earning below Rs 15,000 a month in establishments having up to 100 employees.