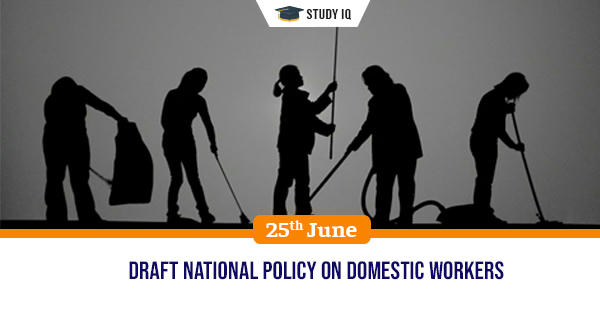 Draft National Policy on Domestic Workers
Date: 25 June 2019
Tags: Society
Union Ministry of Labour and Employment is drafting National Policy on Domestic Workers in bid to give recognition to domestic workers besides making them eligible for minimum wages, social security and safe working conditions. The draft policy will go through various rounds of stakeholder consultation before it is finalized. It will benefit nearly 40 lakh domestic workers mostly in unorganized sector.
Salient features of draft policy
It provides for inclusion of domestic workers in existing legislations, giving them right to register as

unorganized workers as a result it will facilitate their access to rights and benefits.

It will entitle domestic workers to right to form their own associations/unions, right to

minimum wages and access to social security, right to enhance their skills.

It will also provide protection of domestic workers from abuse and exploitation, giving them

access to courts, tribunals by establishing grievance redressal system for domestic workers.

It will also provide domestic workers right to enhance their profe

ssional skills and establish mechanism for regulation of private placement agencies
Background
As per National Sample Survey (NSS), there are estimated 39 lakhs people employed as domestic workers by private households, of which 26 lakhs are female domestic workers. UnionGovernment is already implementing Unorganised Workers' Social Security Act, 2008 to provide social security benefits relating to life and disability cover, health and maternity benefits, old age protection to unorganised workers including domestic workers. This Act also provides formulation of social security schemes viz. life and disability cover, health and maternity benefits and old age protection by the central Government. State Government also are mandated under Unorganized Workers' Social Security Act, 2008 to formulate suitable welfare schemes for unorganized sector workers including domestic workers relating to employment injury benefits, housing, provident fund, education schemes for children, skill up gradation of workers, financial assistance & old age homes.