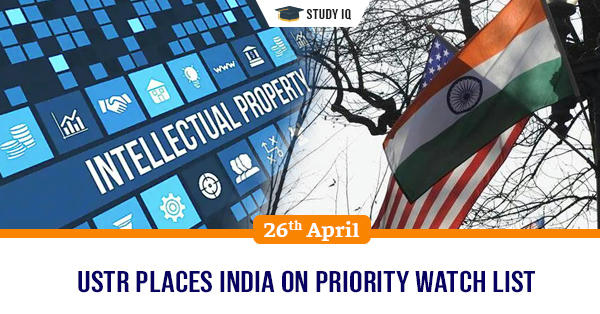 USTR places India on Priority Watch List
Date: 26 April 2019
Tags: Services
United States Trade Representatives (USTR) has placed 11 countries, including India, in its 'Priority Watch List' released as part of Special 301 Report. Besides it also has placed 25 countries, including Pakistan and Turkey on the Watch List. These countries were placed in these list for not taking sufficient measurable improvements to their Intellectual Property (IP) framework on long-standing and new challenges that have negatively affected US IP right holders over past year. These countries will be subjected to increased bilateral engagement with USTR to address IP concerns.
Special 301 Report
It is prepared annually by Office of USTR. It identifies trade barriers to US companies and products due to intellectual property laws, such as copyright, patents and trademarks, in other countries.

It identifies countries which do not provide adequate and effective protection of intellectual property rights (IPR) or fair and equitable market access to US persons that rely upon intellectual property rights.
Why India is placed in 2019 Report?
Though India has taken steps to address intellectual property challenges and promote IP protection and enforcement over the past year, but many of the actions have not yet translated into concrete benefits for innovators and creators.

Long-standing deficiencies persist in India's IPR framework and its remains one of world's most challenging major economies with respect to protection and enforcement of IP.

US businesses in India faces challenges which make it difficult for innovators to receive and maintain patents, particularly for pharmaceuticals.

Moreover, India's insufficient enforcement actions, copyright policies do not properly incentivise creation and commercialisation of content and outdated and insufficient trade secrets legal framework.

USTR also has alleged that India also has restricted transparency of information provided on state-issued pharmaceutical manufacturing licenses, and expanded application of patentability exceptions to reject pharmaceutical patents.