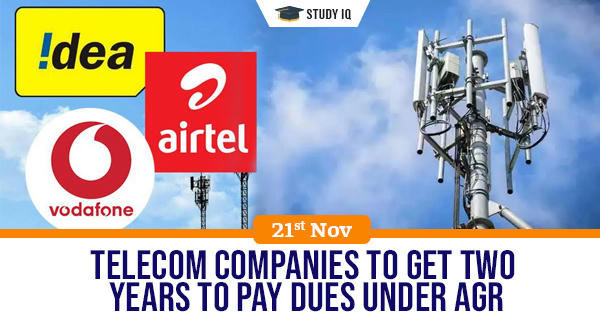 Telecom companies to get two years to pay dues under AGR
Date: 21 November 2019
Tags: Services
Issue
The Union Cabinet has approved a two-year moratorium to telecom operators on pending spectrum payment, which will help telcos avoid an immediate outflow of over 42,000 crore.
Background
As per the government, following the Supreme Court judgement, the telcos now owe 1.47 lakh crore in license fees (92,642 crore) and spectrum usage charge (55,054.51 crore).
Details
The deferred amount will be equally spread over the remaining instalments to be paid by the companies without any increase in the existing time period for making the instalment payments.

The move will help Bharti Airtel prevent an outgo of 11,746 crore, while for Vodafone Idea and Reliance Jio, the amount stands at 23,920 crore and 6,670 crore, respectively.

The Cellular Operators' Association of India (COAI) said the move will certainly provide some immediate cash flow relief to the industry.
Adjusted Gross Revenues
The DoT argued that AGR includes all revenues (before discounts) from both telecom and non-telecom services.

The companies claimed that AGR should comprise just the revenue accrued from core services and not dividend, interest income or profit on sale of any investment or fixed assets.

The definition of AGR has been such a contentious issue because it has huge financial implications for both telcos and the government. The revenue shared by telcos with the government goes into the consolidated fund of India.