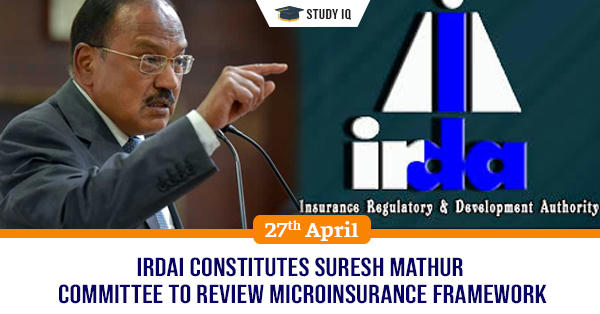 IRDAI constitutes Suresh Mathur Committee to review microinsurance framework
Date: 27 April 2019
Tags: Services
Insurance Regulatory and Development Authority of India (IRDAI) has constituted 13-member committee to review the regulatory framework on microinsurance and recommend measures to increase the demand for such products.
Composition: It will be headed by IRDAI Executive Director Suresh Mathur. It comprises officials of the IRDAI, insurers representatives from life, general and health insurance companies in the public and private sectors and NGOs as it members.
Terms of Reference of Committee
It has been tasked to suggest product designs with customer-friendly underwriting, including easy premium payment methods and simple claims settlement procedures. It will review regulatory framework on microinsurance in the country and abroad.
It will suggest changes in distribution structure, if any, including mobile-based and technology driven solutions. It will also give suggestions on creating effective awareness programmes. It will submit recommendations within three months.
Background
The committee has been formed in backdrop of less- than-desired offtake of microinsurance products despite their inherent benefits. India has seen to be very exciting market and pioneer in microinsurance sector in the world. Specifically intended for protection of low-income people, with affordable insurance products, microinsurance promises to support sustainable livelihoods of the poor. However, its market penetration remains low.