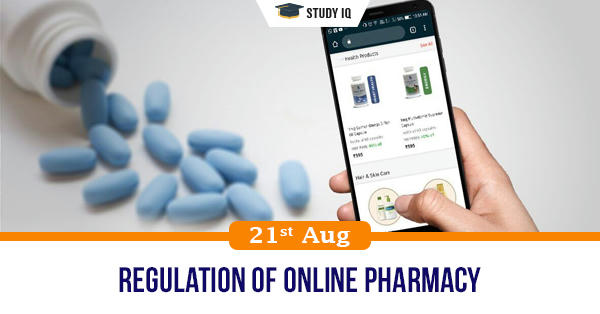 Regulation of online pharmacy
Date: 21 August 2020
Tags: Services
Issue
India's online pharmacy market saw two significant merger and acquisition deals — Reliance Retail picking up majority stake in e-pharmacy Netmeds, and PharmEasy moving to merge with smaller rival Medlife.
Background
After the launch of e-commerce giant Amazon's online drug delivery services, it suddenly caused activity in a sector from which large investors have shied away due to lack of proper regulations.
Details
While Covid-19 and the subsequent behavioural shift towards e-commerce may have catalysed growth for online pharmacies, the sector was already poised to grow seven-fold by 2023 to $2.7 billion.

This was mainly on account of the challenges faced by physical pharmacies that gave their online counterparts a problem to solve.

Experts believe that e-pharmacies will be able to solve the problems that traditional pharmacies couldn't. But for this, they need to have a large-scale presence that calls for either huge investments or consolidation.

Currently, companies in the Indian e-pharmacy space mainly operate three business models — marketplace, inventory-led hybrid (offline/online) and franchise-led hybrid (offline/online) — depending on the way the supply chain is structured.

In addition to companies like Netmeds, Medlife and PharmEasy, other players in the segment include online healthcare startups such as 1mg, Practo, Myra as well as traditional chemists such as Apollo Pharmacy.

While the lack of proper rules governing the online pharmacy space has kept large investments at bay, it has allowed the existing players in the market to grow and overcome the challenges faced by traditional retailers.

Draft rules for e-pharmacies sought to define the online sale of medicines, what an e-prescription means and what type of licences online firms would need to get from regulators to operate.

The draft had proposed to allow e-pharmacies to get a central licence to operate from the country's apex drug regulator, which could be used to allow it to operate across the country.

It also proposed to define e-pharmacies in a way that would allow them to distribute, sell and stock medicines.