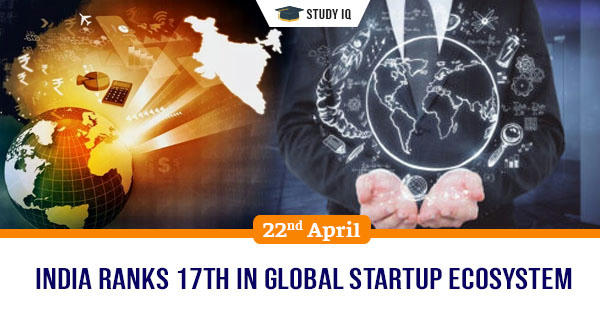 India ranks 17th in Global Startup Ecosystem
Date: 22 April 2019
Tags: Services
India was ranked 17th position among 100 countries (for year 2018) in Startup Ecosystem Ranking for 2019 released by StartupBlink. It was ranked 37th spot last year (2017). The report ranks countries based on the strength of its startup ecosystem. It takes into consideration startup ecosystems of 1,000 cities and 100 countries for the ranking
Startup Ecosystem Ranking for 2019
Top three countries are: United States, United Kingdom, and Canada are top three in terms of global rankings.
India related facts: Bengaluru, New Delhi, and Mumbai were three Indian cities with the most vibrant startup ecosystems. Bengaluru was as top startup city in India at 11th spot, while New Delhi was ranked at 8th spot and Mumbai stood at 29th rank.
The rise in India's rank in 2018 is attributed to number of factors. Total 3800 new startups were launched in India during 2018 and overall, Indian startups received $11 billion funding through 743 deals in 2018.