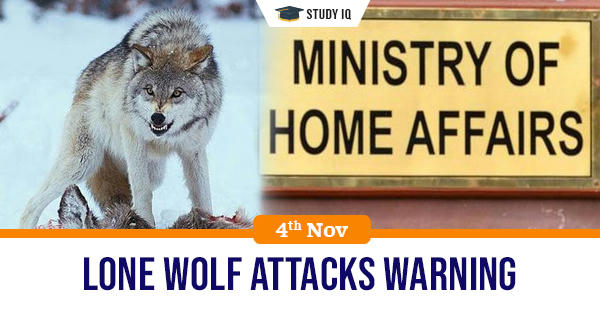 Lone wolf attacks warning
Date: 04 November 2019
Tags: Security Threats
Issue
A high alert has been issued to security forces across the country by central intelligence agencies, warning of possible 'lone wolf' attacks by Islamic State (IS) operatives.
Background
The Home ministry said that the overall security scenario in the country remained a cause for concern on account of the threat emerging from Pakistan and the Afghanistan-Pakistan belt.
Details
The reported nexus between home-grown terror outfits and Pakistan-based extremist organisations in terms of procurement of weapons, technology and training has added a new dimension to the threat scenario.

The porous coastline of southeastern and southwestern India was an easy landing ground for terror outfits to push their men and material into the country, the note said.

Inputs indicated that Sri Lanka and Maldives were used by Pakistan-based terrorist elements for anti-India activities.
Lone wolf attacks
A lone-actor terrorist, or lone wolf is someone who prepares and commits violent acts alone, outside of any command structure and without material assistance from any group.

The term lone wolf is used to distinguish terrorist actions carried out by individuals from those coordinated by large groups.

Terrorist attacks that are carried out by small cells are not classified as lone wolf attacks.