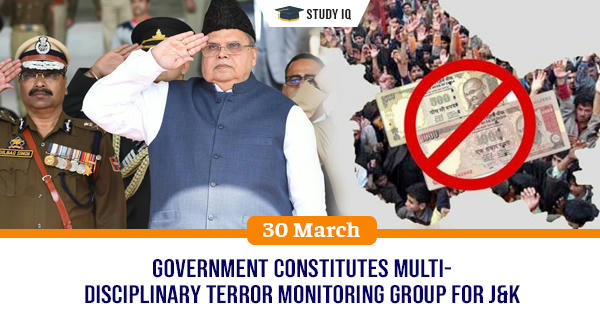 Government constitutes Multi-Disciplinary Terror Monitoring Group for J&K
Date: 30 March 2019
Tags: Tackling Security Threats, Security Threats
Union Ministry of Home Affairs (MHA) has constituted eight memnber Multi-Disciplinary Terror Monitoring Group (MDTMG) for Jammu and Kashmir. It aims to ensure concerted action against terror financing and other terror related activities in J&K and bring them to a logical conclusion. It will meet on weekly basis and submit its action report regularly.
Members of MDTMG
It will be headed by Additional Director General of Police (CID) of J&K Police. Its member will have representatives from J&K Police, Central Bureau of Investigation (CBI), Intelligence Bureau (IB), National Investigation Agency (NIA), Central Board of Direct Taxes (CBDT) and Central Board of Indirect Taxes and Customs.
Terms of Reference of MDTMG
Identify all key persons including leaders of organisations who are involved in supporting terrorism in any form.

Take action against hardcore supporters among government employees including teachers who are providing support to terror activities.

Take coordinated action in all terror registered cases, terror financing and terror-related activities and bring them to logical conclusion.

Investigate networks of various channels being used to fund terror and terror-related activities and will undertake action to stop flow of such funds.