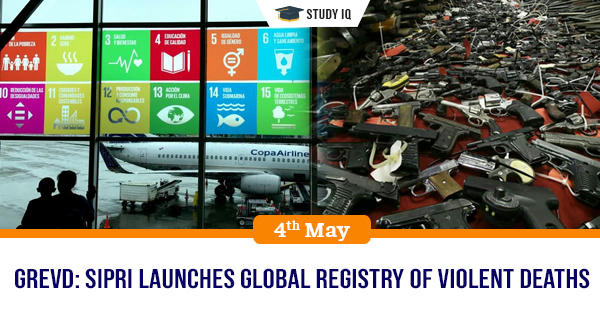 GREVD: SIPRI launches Global Registry of Violent Deaths
Date: 04 May 2019
Tags: Security Threats
Stockholm International Peace Research Institute (SIPRI) has launched new initiative named Global Registry of Violent Deaths (GReVD) to count deaths caused by all forms of violence across the world and display these in open-source database. It aims to establish annual number of violent deaths worldwide and enable monitoring of progress on world's commitment to 'significantly reduce all forms of violence and related death rates everywhere' by 2030 as set out in Sustainable Development Goals (SDGs)-Goal 16.
Global Registry of Violent Deaths (GReVD)
It will be open-source database that will allow researchers, policymakers and general public to track trends in violence at global, regional, national, provincial, city and municipal levels.

It will hold single entry for every violent death, including time, location, perpetrator, victim and type of violence.

The sources will be verifiable news reports of lethal events and processing will be done by machine coding to handle volume of entries, as well as human coding to ensure accuracy and consistency.

Supporting agencies:

For this project, SIPRI has already brought together main groups that monitor violent deaths, as well as leading big data labs.

The first-phase of the project is funded by Swedish Postcode Foundation and United Kingdom's Department for International Development.
Stockholm International Peace Research Institute (SIPRI)
It is international institute dedicated to research into conflict, armaments, arms control and disarmament. It was established in 1966 and is based in Stockholm, Sweden.

It provides data, recommendations and analysis to policymakers, researchers, media and interested public based on open sources,.

It was ranked among top three non-US world-wide think tanks in 2014 Global Go To Think Tanks Report by University of Pennsylvania Lauder Institute.