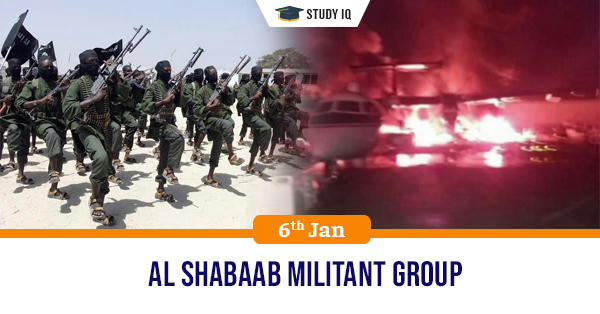 Al Shabaab militant group
Date: 06 January 2020
Tags: Security Threats
Issue
A military base in Kenya, used by US and Kenyan forces, came under attack from the Al Shabaab militant group. US aircraft and vehicles were destroyed in the assault.
Background
There have been confrontations between the US and Al Shabaab in the past, but this is the first time the latter has struck US forces inside Kenya, considered to be a key base for fighting the highly resilient militant group.
Details
The Islamist Al Shabaab group is active in East Africa and is involved in the ongoing civil war in Somalia. The group has been fighting to overthrow the weak West-backed Somali government, the latter being supported by a 21,000-strong African Union peacekeeping force.

The US established Camp Simba in Kenya's Lamu county more than a decade ago, where it maintains under a 100 personnel. The US trains and gives counterterror support to its East African partners at the Manda Bay airfield that also acts as a base fighting against the group.

The group is responsible for many attacks such as suicide attack on an upscale hotel and office complex in Nairobi, raid on the Baledogle base in Somalia, which is used by both Somali special forces and American troops etc.
Al Shabaab