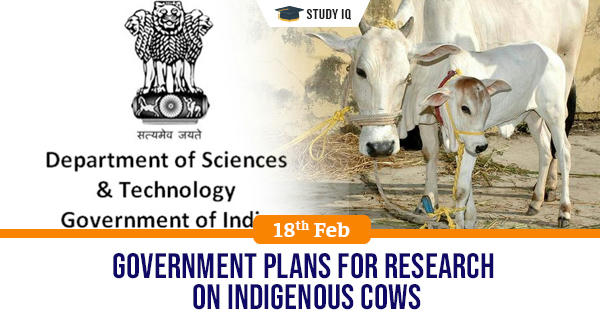 Government plans for research on indigenous cows
Date: 18 February 2020
Tags: Science, Technology & Innovation
Issue
The government has unveiled a programme to research on 'indigenous' cows, which will be funded by multiple scientific ministries.
Background
A 2019 article in the Journal of Animal Research said India had 190.9 million cattle and 43 registered native cattle breeds. The number of indigenous breeds have decreased considerably.
Details
The initiative, SUTRA PIC, is led by the Department of Science and Technology (DST). It has the Department of Biotechnology, the Council of Scientific and Industrial Research, the Ministry for AYUSH (Ayurveda, Unani, Siddha, Homoeopathy) among others and the Indian Council of Medical Research as partners.

SUTRA PIC or Scientific Utilisation Through Research Augmentation-Prime Products from Indigenous Cows, has five themes: Uniqueness of Indigenous Cows, Prime-products from Indigenous Cows for Medicine and Health, Prime-products from Indigenous Cows for Agricultural Applications, Prime-products from Indigenous Cows for Food and Nutrition, Prime-products from indigenous cows-based utility items.

Researchers from academic organisations as well as capable voluntary organisations (NGOs) active in India with proven record of accomplishment in executing S&T-based R&D projects, have been invited to apply for funding.

The proposals under this theme should aim to perform scientific research on complete characterisation of milk and milk products derived from Indian indigenous cows, scientific research on nutritional and therapeutic properties of curd and ghee prepared from indigenous breeds of cows by traditional methods, development of standards for traditionally processed dairy products of Indian-origin cow.

The exotic / crossbred population has been increased by 20.18% during the period of last census while population of indigenous cattle has been decreased by 8.94% during the same duration.

The reasons for depletion of native breeds includes cross-breeding with exotic breeds, economically less viable, losing utility, reduction in herd size and the large-scale mechanisation of agricultural operation.