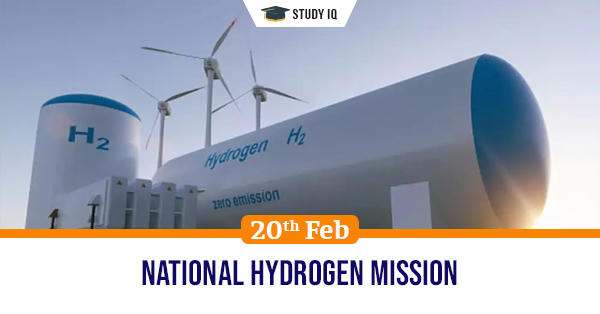 National Hydrogen Mission
Date: 20 February 2021
Tags: Science, Technology & Innovation
Issue
Union power minister RK Singh said that the government is planning to call for green hydrogen bids in the next 4-5 months.
Background
The development comes after Union finance minister Nirmala Sitharaman proposed the introduction of a "National Hydrogen Energy Mission" in her budget speech.
Details
Hydrogen technology is being explored by the government to reduce dependence on imported products. Hydrogen fuel cell vehicles can be charged in 5-15 minutes.

NTPC has already signed an MoU with Siemens for production of green hydrogen from the company's renewable energy plants and its use in transportation.

It has also planned pilot projects to run five hydrogen-cell electric buses and five cars in Delhi and Leh.

In its laboratories, NTPC is designing a prototype for hard/sea water electrolysis and reactors for hydrogen production through the photo-electro-chemical process.
Hydrogen Mission
There will be five key areas the government will focus on. These include R&D, demand creation, how it can be used in industry, how to create an eco-system including policies for this, and how to bring industry on board along with international partnerships.

In these five areas, demand creation will focus on what kind of niche products can be taken up and how effectively the fuel can be used in trucks and buses.

In the industrial sector, the government is looking at hydrogen as a replacement for coke in the steel industry and also making use of the fuel in the fertiliser sector.
Hydrogen as fuel
Being a zero-carbon fuel, hydrogen is considered to be one of the key sources of clean energy for the future.

This fuel can be produced from various sources like natural gas, nuclear power, biomass, and renewable power like solar and wind. There are three types of hydrogen – grey, blue and green.

The fuel produced from fossil fuels is called grey hydrogen, those produced from fossil fuels with carbon capture and storage options are called blue hydrogen, while those produced from renewable power sources are called green hydrogen.

Though there are several ways of producing hydrogen, the most common methods are natural gas reforming and electrolysis.