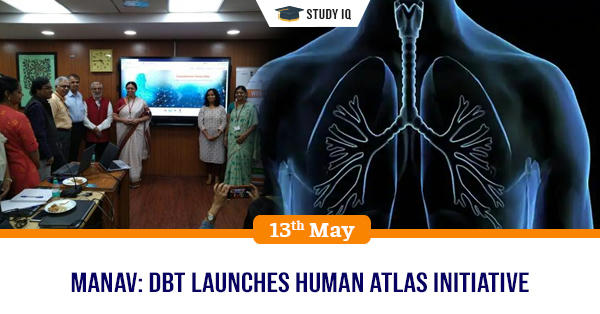 MANAV: DBT launches human atlas initiative
Date: 13 May 2019
Tags: Science, Technology & Innovation
Department of Biotechnology (DBT), Ministry of Science and Technology launched MANAV : Human Atlas Initiative aimed at improving knowledge on human physiology. It will for first time, Indian scientists through this project will be mapping every single tissue of human body to have deeper understanding of the roles of tissues and cells linked to various diseases
MANAV: Human Atlas Initiative
It aims at creating database network of all tissues in the human body from the available scientific literature.
It will involve gaining better biological insights through physiological and molecular mapping, develop disease models through predictive computing and have a wholistic analysis and finally drug discovery. It involves scientific skill development for annotation, science outreach along with handling big data.
Under it, student community will be the backbone on assimilating information, will be trained and imparted with skills to perform annotation and curation of information that will ultimately form the online network.
Information generated under it will pass through multiple levels of reviews. Thus, it will be Atlas or reliable collection on human body tissues. This collated data can be useful for both future researchers and parallelly, to the clinicians and drug developers, who finally handle human bodies in disease conditions.
Funding agencies: DBT has invested Rs. 13 crore shared between two institutions in Pune – National Centre for Cell Science (NCCS) and Indian Institute of Science, Education and Research (IISER), Pune. Besides, Persistent Systems Limited has co-funded the project and is developing the platform, and has contributed Rs 7 crore.
Significance of MANAV project
It aims to understand and capture the human physiology in two stages – in normal stage and while in a disease stage. Such database on individual tissues, once ready, will be handy in tracing causes of disease, understanding specific pathways and ultimately decode body's disease stage linked to tissues and cells. It will also help to study any potent elements or molecules that have never been used in form of drugs, to target the specific cells or tissues.