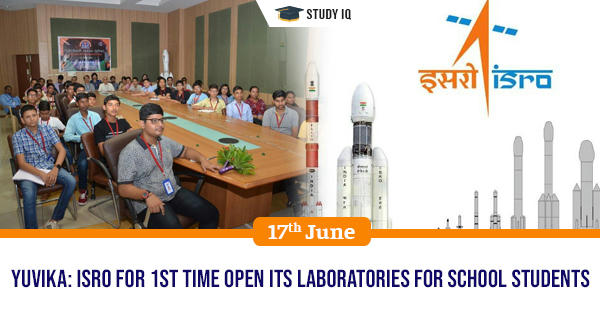 YUVIKA: ISRO for 1st time open its laboratories for school students
Date: 17 June 2019
Tags: Science, Technology & Innovation
The Indian Space Research Organization (ISRO) as part of its Yuva Vigyanik Karyakram (YUVIKA) 2019 has opened its laboratories for school students. It was for the first time these laboratories were opened for school students. As part of it, first batch of 108 students drawn from all States/UTs recently completed their exposure to ISRO's laboratories in Sriharikota, Bengaluru,Thiruvananthapuram and other places.
About YUVIKA
It stands for YUva VIgyani KAryakram (YUVIKA). It is also known as "Young Scientist Programme". It was launched by Indian Space Research Organisation (ISRO) in March 2019.

Objective:

To impart basic knowledge on space science, space technology, and space applications to the school children with the intent of arousing their interest in the emerging areas of space activities.

Strategy:

Under it, ISRO is conducting "Catch them young" residential training programme of around two weeks duration during summer holidays for selected children. It has selected 3 students each from each States/UTs to participate in this programme every year covering CBSE, ICSE and State syllabus.

Eligibility:

Students who had finished 9th standard in academic year 2018-19 and waiting to join 10th standard or those who have started 10th Std just now were selected for the programme.

Programme Features:

Eminent scientists will be delivering talks and sharing their experiences with the students. They will also provide hands on training to these selected at the space labs

Programme's curriculum

: It will cover diverse topics ranging from environment science, astronomy, rocket engineering, renewable energy, space applications and soft skill improvement modules such as team work, communication and leadership.