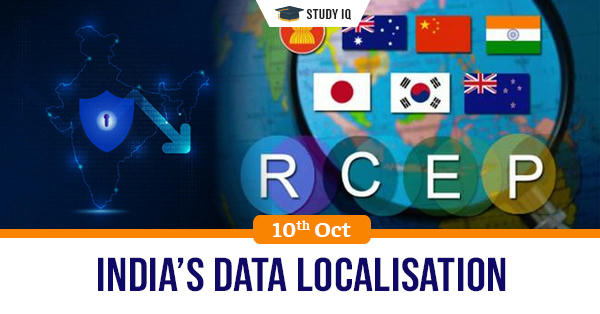 India's data localisation
Date: 10 October 2019
Tags: Science, Technology & Innovation
Issue
India's data localisation plans is under threat as it will join the other Regional Comprehensive Economic Partnership (RCEP) countries in discussing the e-commerce chapter of the RCEP agreement.
Background
Currently India plans to intoduce legislation for data localisation. If India agrees to the provisions of Chapter 10 of RCEP on e-commerce, as specified by most of the other countries, it will mean it won't be allowed to impose data localisation rules on companies looking to do business in India.
Details
This would go against the Reserve Bank of India's (RBI's) norms on localisation of payments data which stated that all system providers shall ensure that the entire data relating to payment systems operated by them are stored in a system only in India.

The RCEP clause states that no Party shall require a covered person to use or locate computing facilities and store data in that Party's territory as a condition for conducting business in that territory.

This data is to include the full end-to-end transaction details, information collected, carried, or processed as part of the message or payment instruction.

If India agrees to the wording as it is, then these rules by the RBI will also have to be reviewed, as would any future plans the government has to implement data localisation in any form.

A change has been suggested to the clause on the transfer of electronic information across borders, where India wants to make the clause subject to domestic laws and norms framed from time to time.
Data localisation
Data localisation is the act of storing data on any device physically present within the borders of a country.

Localisation mandates that companies collecting critical data about consumers must store and process them within the borders of the country.

The RBI had issued a circular mandating that payments-related data collected by payments providers must be stored only in India.

The main intent behind data localisation is to protect the personal and financial information of the country's citizens and residents from foreign surveillance and give local governments and regulators the jurisdiction to call for the data when required.

The other argument is that data localisation is essential to national security. Storing of data locally is expected to help law-enforcement agencies to access information that is needed for the detection of a crime or to gather evidence.

Where data is not localised, the agencies need to rely on mutual legal assistance treaties (MLATs) to obtain access, delaying investigations. On-shoring global data could also create domestic jobs and skills in data storage and analytics too.