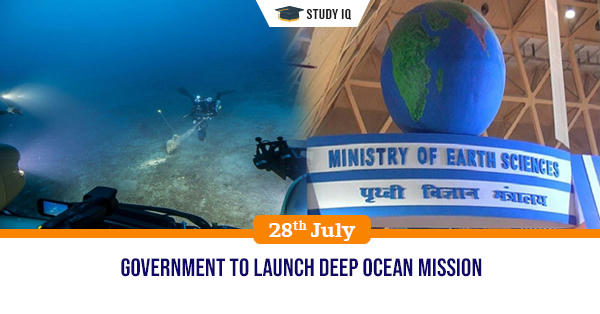 Government to launch Deep Ocean Mission
Date: 28 July 2019
Tags: Science, Technology & Innovation
Union Government has given in-principle approval to Deep Ocean Mission (DOM) and will be launched from October 31, 2019. It was announced on the occasion of foundation day function of Ministry of Earth Sciences (celebrated on July 27). The blueprint of Deep Ocean Mission (DOM) was released in July 2018. It will help India in leveraging blue economy for the country's overall economic growth. Government is focusing on blue economy in terms of sustainable use of ocean resources for economic growth.
About Deep Ocean Mission (DOM)
It is five-year mission aimed at exploring deep ocean by emulating success of Indian Space Research Organisation (ISRO) in designing and launching satellites. Its major thrust is to help India harness various living and non-living (water, mineral and energy) resources from the seabed and deep water.

Implementing agency:

Union Ministry of Earth Sciences.

Focus of DOM

: It is on deep-sea mining, ocean climate change advisory services, underwater vehicles and underwater robotics related technologies.

Two key projects planned under it:

Desalination plant powered by tidal energy and submersible vehicle that can explore depths of at least 6,000 metres with three people on board.

Tasks that will be undertaken:

Deep-sea mining, survey, energy exploration and the offshore-based desalination.
Background
Exclusive Economic Zone (EEZ) of India spreads over 2.2 million sq. km and deep sea, lies completely unexplored and unutilised to its potential to meet needs for overall economy. United Nations International Sea Bed Authority (UN-ISBA) has allocated India site of 1,50,000 sq. km in Central Indian Ocean Basin (CIOB)for exploitation of polymetallic nodules (PMN). These are rocks scattered on seabed containing iron, cobalt, nickel and manganese. It is envisaged that 10% of recovery of that large reserve can help India to meet energy requirement for next 100 years. It has been estimated that 380 million metric tonnes of PMN are available at the bottom of the seas in CIOB.