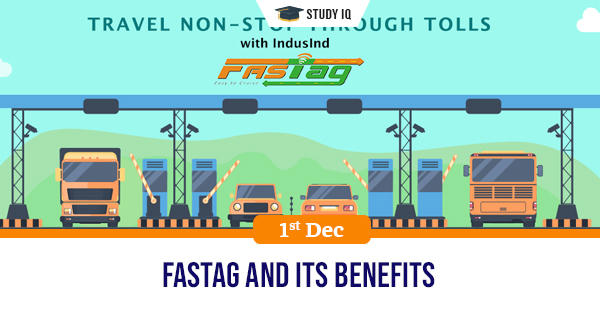 FASTag and its benefits
Date: 01 December 2019
Tags: Science, Technology & Innovation
Issue
From December 15, 2019, FASTag, a prepaid rechargeable tag for toll payments, on national highways will become mandatory for all vehicles.
Background
It is a prepaid radio-frequency identification-enabled tag that facilitates automatic deduction of toll charges. The new system will now do away with a stop-over of vehicles and cash transactions at toll plazas.
Details
The FASTag electronic toll collection programme is being implemented by the Indian Highways Management Company Limited (IHMCL), a company incorporated by the National Highways Authority of India (NHAI), and the National Payments Corporation of India in coordination with Toll Plaza Concessionaires, tag issuing agencies and banks.

Currently, FASTag can be bought from 22 certified banks, through various online platforms, online applications and at select points-of-sale locations.

The tag, which can be recharged through cheque or online payments, is fixed on the windshield of a vehicle, ideally on the glass just behind the rear-view mirror.

It is scanned by the tag reader and the toll amount is deducted when the vehicle approaches a toll plaza. The user gets a short message service (SMS) alert on the registered mobile phone about all transactions and the available balance.
Importance
A joint study in 2014-15 by the Transport Corporation of India and the Indian Institute of Management-Calcutta estimated the cost of delay on Indian roads at $6.6 billion per year.

The cost of additional fuel consumption due to delays was also put at $14.7 billion per year.

If mileage can be improved by increasing fuel e?ciency, improving road conditions and reducing stoppage delays, the impact on the economy could be huge.

To expedite the toll collection process, India should gradually move towards electronic toll collection, which would not only reduce congestion and queues at toll plazas but also reduce operating costs for toll operators and plug revenue leakages.
Benefits
Plugging revenue leakages and reducing the cost of delays and fuel consumption.

It helps remove bottlenecks, ensures seamless movement of traffic and saves time.

The centralised system provides authentic and real-time data to government agencies for better analysis and policy formulation.

It also helps reduce air pollution and the use of paper besides cutting the cost of managing toll plazas.

The Central government also plans to enable the use of FASTag for a range of other facilities such as fuel payments and parking charges.